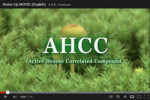 Amino Up Chemical's AHCC on Breast Cancer Chemotherapy Is Reported by The University of Tokyo
Date: February 05, 2013
AHCC will reduce side effects of chemotherapy and improve Breast Cancer Patients' Quality of Life
The research group of Satoru Iwase, MD., PhD. (Department of Palliative Medicine, The University of Tokyo Hospital) reports effects of AHCC, a food material manufactured by Amino Up Chemical, on breast cancer chemotherapy at ASPEN's Clinical Nutrition Week 2013 (Phoenix, AZ) on February 9-12, 2013. From October, 2004 to March, 2011, The Iwase group has evaluated effects of AHCC on 18 breast cancer patients and compared with 23 patients who did not take AHCC. AHCC mitigates decrease in neutrophils which have an immune function to virus infection. From this result, it is suggested that AHCC will maintain quality of life of cancer patients through reduction of risk of infection.
.
In breast cancer chemotherapy, anticancer drugs such as anthracycline and taxane are often used. However, these drugs are known to have side effects such as hair loss, digestive symptom, cardiac muscle damage, and bone-marrow suppression. In the research, decrease in neutrophils was mitigated by AHCC, and it was successively achieved less use of G-CSF, a drug used to improve production and function of neutrophils.
AHCC (Active Hexose Correlated Compound) is mushroom mycelia extract which is rich in alpha-glucans. AHCC is available as a dietary food not only in Japan but also in USA, Europe, Asia and Oceania. It is also used on complementary and alternative medicine. It is considered that AHCC activates innate immune system. For example, in a study with 21 healthy volunteers, AHCC increased dendritic cells in blood. Also, animal studies were reported in various cases such as diabetes, bowel disease and inflammation.
"I believe this report will bring us more confidence in our product, AHCC," said Ken-ichi Kosuna, Chairman of Amino Up Chemical Co., Ltd. "We will continue to explore further opportunities of collaborative research in AHCC." –
---
Please check the AMINO UP CHEMICAL Profile