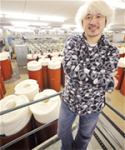 By developing unique spun yarns and knit products, the company became a global luxury brand.
Source: The Japan Machinery Federation
Summary
Mr. Sato assumed the position of fourth president in 2000 and started research and development of special fiber. He succeeded in reducing the thickness of a mohair fiber made of Angola-goat hair to 1/2 of the conventional limit and in spinning a 52m thread from 1g of the material. High skill was required to produce knit yarn made of 100% mohair because mohair was too slippery to spin but by modifying his old spinning machines, he produced mohair fiber that kept the delicate soft feeling of original material. This fine mohair fiber was used for a Nina Ricci cardigan, which First Lady Michelle Obama wore at the inauguration ceremony of President Obama, and attracted people's attention. This company spins fibers, manufactures knit products and apparel and performs all the processes from development of fiber to manufacturing of products for itself. The company continuously exhibited its products at the world's largest exhibition for knit materials in Italy and became one of the top brands in Europe and the U.S.

We hear that the fiber made by Sato Seni was used for a cardigan that First Lady Michelle Obama wore.
We have been manufacturing the spun yarn for nearly sixty years and have continuously put high priority on selection of good raw materials since we started our business. Our mohair fiber was used for her cardigan. Mohair fiber is a very important material, only a small amount of which can be taken from an Angora goat in South Africa. It is very difficult to spin mohair into long thin fiber because it is very slippery. It was said in our business field that only a 27m of fiber could be taken from 1g of the material at maximum, but we succeeded in production of a 52m ultra-fine mohair fiber. In fact, a mass-production machine that is controlled by a computer cannot manufacture such ultra-fine fiber. Only a modified old machine can produce such delicate fiber.
What made you develop such a special thread?
I introduced a "Tri Spin" (spinner) test machine and started our research and development in 1998. When I visited a global fiber exhibition "Pitti Filati", I also visited silk-raising farmers and factory. This experience was a turning point in my life. I witnessed the farmers' unusual pride in their job and products and saw many interesting fiber that I had not seen before. They all said proudly, "We are producing a basis for world fashion here." It was really a shocking experience for me because I manufactured fiber simply as apparel manufacturers requested. I asked myself, "What have I been doing?" In their factories, they used the same spinning machines as I used, but they modified their machines in various ways to manufacture their own fiber. I thought that if they could do it, I also could do it. I realized that what I should learn from Italians was their enthusiasm for Monodzukuri, not skill for manufacturing of fiber.
It was just around the time when you became your company's fourth president, wasn't it?
I got married and returned to Sagae, my hometown, in 1992. People still had good image about the textile industry at that time. But our business performance has only declined since then. As a subcontractor of a major brand company, we mass-produced tens of thousands of knitwear with one machine, but this company shifted its production overseas. The number of companies in the same industry decreased and the textile industry itself declined during the time. As I was a young fourth president, I could not lay off workers in restructuring. I myself created design drawing and issued a purchase order to "Sato Seni". I asked myself, "How can we modify our knitting machines and use them effectively? How can we produce our own fiber that is not a copy of European fiber?" We looked for a new method and manufactured a new product repeatedly. And we sold our products by ourselves. We visited the wholesalers across the country and even had a tent sale in front of a supermarket on weekends.
What was your breakthrough?
When nobody bought our products in front of a supermarket, I became aware of an important fact, namely "how to display". At that time, we thought easily that customers could appreciate the quality of our knits because they were made of best fiber, but it was a big mistake. If a selling place and display were not good, customers did not buy a product. We understood how important merchandising (MD) was. Especially our own MD was important. When an exhibition was held in Tokyo, we displayed our products while keeping merchandising in mind seriously. We displayed about seventy products, which we made according to our own sensitivity, and prepared everything including our booth and shelves for ourselves. Our unique booth attracted many customers. We received about four hundred name cards from customers. Then we were asked to display our products in New York and could have a new big possibility. Our products could gain high evaluation in an exhibition where many designers and buyers gathered from all over the world, and later they were used by luxury brand makers such as Gucci and Nina Ricci.
You started to sell your own brand products in New York in 2001.
Our brand is "M. & KYOKO", and my wife is a main designer. If we don't have our own brand, our products should be sold in a brand of apparel maker in distribution occasionally despite our intention. We could not put up with it. Interestingly, however, it was Japanese designers and buyers who publicized our products as "made-in-Japan products customers can obtain only in N.Y." Namely, our products were reverse-imported. Our products worth one million yen were sold only in one minute in a famous TV mail-order program, and this fact reminded us of the importance of MD. A wholesaler, department store and specialized store were our only one sale channel, but now I am sure that if we have sufficient ability for Monodzkuri and publicity activities, instead of simply following the current trend, we have enough chance.
The same holds true not only for the textile industry but for other manufacturing industries as well.
My keyword is "evolution". I think that people who can evolve according to an environment can survive, not those who excel merely in intelligence and strength, as Darwin's theory suggests. I think that the current difficult situation is caused by the time to evolve the present economic system. In the coming years, we have to create a situation where craftsmen can directly face end-consumers. One unique technology can become a global brand.