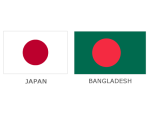 Signing of Grant Agreement with the People's Republic of Bangladesh – Garbage trucks improving the urban living environment
Date: May 21, 2015
Source: Japan International Cooperation Agency
On May 20, the Japan International Cooperation Agency (JICA) signed a grant agreement (G/A) with the Government of the People's Republic of Bangladesh to provide grant aid of up to 1.486 billion yen for the Project for Improvement of Solid Waste Management Equipment.
This project will provide and outfit 150 waste collection vehicles (including compactors), and create a maintenance system in Dhaka South City Corporation, Dhaka North City Corporation and Chittagong City Corporation.
Accompanying a rapid influx of people to cities and the expansion of urban areas, Bangladesh faces serious challenges in its deteriorating urban environment, including an increase in waste and growing slums. The living environment is worsening particularly in Dhaka South and North which together compose the capital, as well as in Chittagong which is the second largest city in the country, due to an increase in waste accompanying the rapid population increase and economic development.
This project is expected to increase the amount of waste collected in the three target cities by 1,830 tons per day, a rise of 84 percent. It is expected that this will contribute to the sanitation in the region, improve the living environment, and contribute to urban development in Bangladesh.
In 2009, JICA supported the Programme for Improvement of Solid Waste Management in Dhaka City toward the Low Carbon Society and provided 100 Japanese waste collection vehicles to what was then Dhaka City Corporation. The vehicles have greatly contributed to solving the waste problem in the target area, and the "garbage trucks decorated with the Japanese flag" have become a beloved sight among the Dhaka residents. This project will meet the subsequent increase in waste collection need, and it is hoped that with the additional Japanese sanitary garbage collection vehicles in service, the image of waste management will be improved in the minds of residents.
In addition to this project, JICA is planning on increasing the waste management capacity in each of the three cities with technical cooperation projects as well, carrying out sanitation education and public awareness campaigns for residents through cooperation volunteer dispatches and other activities, and providing inclusive support for urban environment improvement in Bangladesh.
Basic Project Information
| | |
| --- | --- |
| Country | People's Republic of Bangladesh |
| Planned implementation period | Construction: 22 months, including detailed design work and the bidding period |
| Executing agencies | Dhaka South City Corporation, Dhaka North City Corporation, Chittagong City Corporation |
| Target region, facilities | Dhaka South, Dhaka North, Chittagong |
| Specific project details | Provision of 150 waste collection vehicles, detailed design and procurement monitoring, support for formulating a dispatch plan for compactors, workshop management and mechanic capacity strengthening |