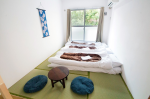 Sakura Hotel Co. Opens New Hotel in Nippori to Welcome International Travelers with Multicultural Offerings
Date: Feb. 06, 2018
Source: Sakura Hotel Nippori
TOKYO – Sakura Hotel Co., headquartered in Shinjuku, Tokyo, opened the Sakura Hotel Nippori near the historic Yanaka Ginza shopping street in Tokyo's Bunkyo Ward, the fifth hotel in the Sakura Hotel and Hostel chain, last year. All five hotels are open 24/7 and boast multilingual staff, as 85 percent of guests are international visitors.
Staff at Sakura Hotel offer an unusual level of service not often seen in other establishments. All staff members are trained to accommodate any diverse requests guests may have. In most hotels, there are clear divisions of responsibility. For example, if a guest were to ask housekeeping staff in a typical hotel for a ramen shop recommendation, they would be politely directed to the concierge, regardless of whether or not the staff member had a restaurant in mind. However, at a Sakura Hotel, all of the associates are well accustomed to quickly resolving questions, regardless of their position.
Check the rooms and special rates, and make a reservation!