Company Name:

SHINKO IND

State/Prefecture:

Hiroshima Prefecture

City/Town/Village:

Hiroshima

Street:

5-7-21, Ozu, Minami-ku

Country:

Japan

Zip/Postal Code:

732-0802

Phone:

082-508-1000

Website:

http://www.shinkohir.co.jp

Contact:

master@shinkohir.co.jp

Listed:

10/17/2013 3:44 am

Expires:

This ad has expired
Shinko has dealt various products from casting to pumps and turbines by its integrate manufacturing system based on advanced technologies, following up with its complete after services. Cargo oil pumps made by Shinko occupies 85% of the global market.
From a munitions workshop into a manufacturer of pumps and steam turbines
Founded in 1938 as an alloy casting shop, Shinko had provided valves and pumps to the Kure Naval Arsenal during the Second World War. After the war, Shinko started manufacturing its original pumps, then focusing on the increasing oil demands they have manufactured steam turbine driven cargo oil pumps for the oil tankers.
Shinko's compound products have been highly acclaimed by shipowners and shipbuilders throughout Japan
There used to be a complaint by shipbuilders about malfunctioning: it could happen when the makers of pump and the turbine, which are connected to the pump with the turbine via an intermediate shaft, are different. As a solution to the problem, Shinko succeeded in developing turbines in 1957 after trials and errors, thus it become possible to supply both the pumps and turbines. Its compound products make the improvement of reliability on cargo oil pump with turbines and have been highly acclaimed by shipowners and shipbuilders throughout Japan.
Overwhelming brands in the world with excellent technologies and after services
Shinko's products have overwhelming dominated the global market: its cargo oil pumps with turbines for oil tanker and pump drive steam turbines have hold 85% market in the world. Shinko brands have been so popular not only because of its high qualities but also its complete afterservices: it has the customer support system with service offices in Japan as well as overseas including Amsterdam, Singapore and Bankok. Whenever its customer reports any trouble with pump, Shinko's service engineer will immediately go and embark onboard where the concerned pump is used.
Following is the pictures of Shinko's oil pump and turbine for 300,000-ton tankers.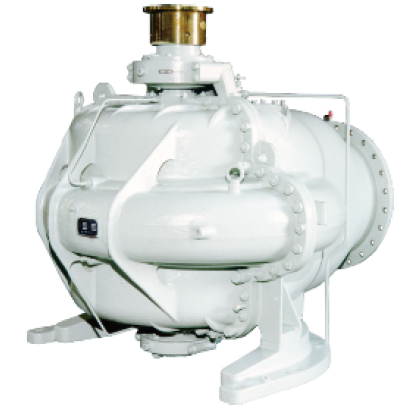 Cargo Oil Pump: 5500m3h × 145m type
Ad Reference ID: 131525fbf827df0b