Listed:

07/17/2014 7:51 pm

Expires:

This ad has expired
G-Leaf™ adopted for use in a "manufacturing roll-to-roll process for organic light emitting diode (OLED) lighting using flexible glass" now under development by COMEDD at Fraunhofer FEP (Germany)
Date: Jul 17, 2014
Source: Nippon Electric Glass Co.,Ltd.
COMEDD at Fraunhofer FEP(*1), a research institution of the Fraunhofer – Gesellschaft, the largest applied research organization in Europe, is using G-Leaf™, NEG's ultra-thin glass, as substrate material for their development of a "roll-to-roll manufacturing process for OLED lighting using a flexible glass substrate." COMEDD recently announced the results of this development project at the international exhibition and conference, LOPE-C 2014(*2).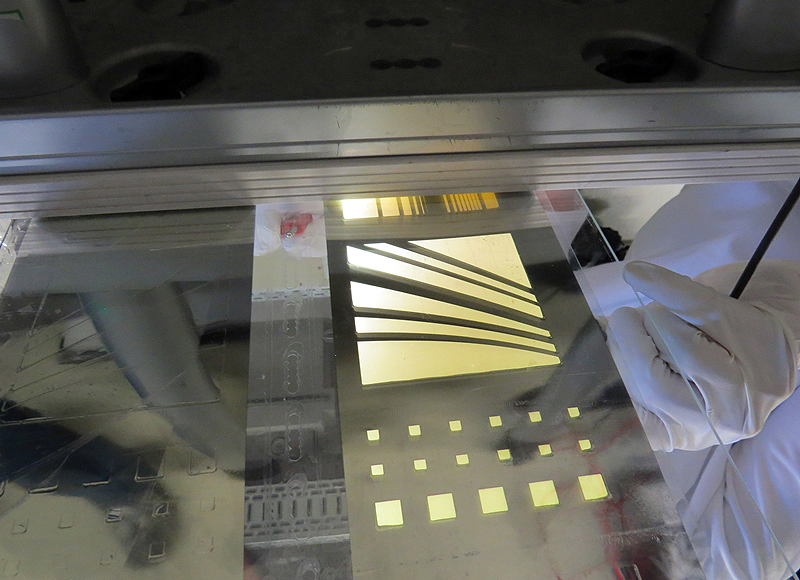 OLED light on flexible glass G-Leaf™ (area of 10 x 10 cm²) processed with Roll-to-Roll technology
In the field of parts manufacturing using glass materials, the roll-to-roll process is an extremely novel breakthrough in production engineering. While NEG is promoting the potential for significant improvement in productivity that this process allows, progress has been made with the development of technology to wrap G-Leaf™ on rolls. The success of this development work has brought COMEDD one step closer to the realization of a mass production method for OLED lighting with a roll-to-roll process using flexible glass. In the near future, further technological progress will bring about the establishment of a viable mass production process, with the expectation that G-Leaf™ will be widely used as a glass substrate for OLED lighting.
(*1) Fraunhofer Institute for Electron Beam, Plasma Technology and COMEDD FEP
(*2) Large-area, Organic-Printed Electronics Convention (2014/5/27 to 28 at Munich)
Fraunhofer FEP news release:
http://www.comedd.fraunhofer.de/en/news/press/2014/2014-05-09.html
Explanation about ultra-thin glass (Nippon Electric Glass Home Page):
http://www.neg.co.jp/EN/technology/focus2.html


Nippon Electric Glass has succeeded in developing a technology to form and continuously produce rolls of such sheets each with a length of over 100 meters.
Ad Reference ID: N/A