Company Name:

ABI Co., Ltd.

State/Prefecture:

Chiba

City/Town/Village:

Nagareyama

Street:

238-1 Judayu

Country:

Japan

Zip/Postal Code:

270-0133

Phone:

+81-04-7137-9131

Website:

http://www.abi-net.co.jp

Contact:

abi@abi-net.co.jp

Listed:

03/29/2014 10:20 pm

Expires:

This ad has expired
ABI was established in 1989, developed innovative CAS freezing technology for long-term storage by keeping tissue cells alive. Norio Owada, ABI president, developed a freezing system with magnetic induction function with which he succeeded in freezing cream for the first time in the world. Further R&D studies continued and succeeded in inventing CAS which was an evolution in long-term preserving food products while keeping the taste of the thawed product as if it has just been harvested or produced.
Currently, we are manufacturing CAS which is applied not only in food industry but also in medical and dental field for organ transplantation and tissue engineering.
ABI's Technology of Cells Alive System (CAS):
Water molecule clumping is prevented by feeble energies emitted by CAS to keep the original fresh structure intact.
Cells Alive System (CAS) is an innovative freezing technology that can keep cells membrane and tissues structure almost intact while freezing. When fresh materials are purchased and frozen by CAS, cells membrane break down is prevented and the pleasant fresh taste will be maintained. Click here for more details.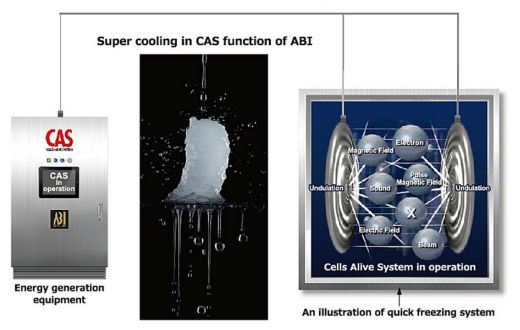 ---
Products: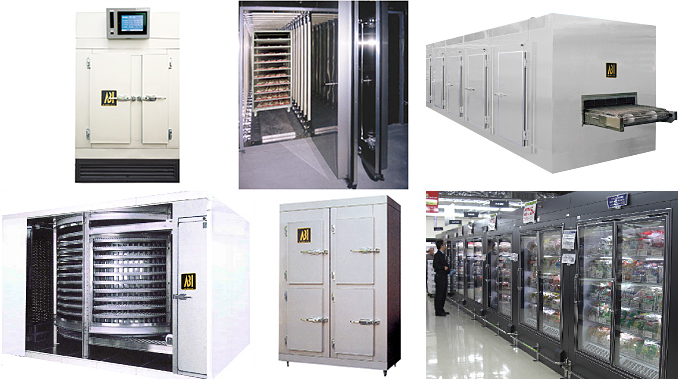 Click image to enlarge
Batch Type Quick Freezer
Rack Type Quick Freezer
Tunnel Type Quick Freezer
Spiral Type Quick Freezer
Harmonic Oscillating Function Food Stocker
Supermarket Showcase and Cold Warehouse
---
ABI's Mission:
ABI continues challenging for materializing Prime Industry as fully attractive and vital industry. It is an important mission of ABI to protect consumers in Japan from the anxiety of future food crisis.
It has become possible to establish a business model to offer consumers to preserve seasonal fresh agriculture, fishery and cattle breeding products for a longer term and subsequently provide them with high-quality foods with fresh taste after thawing. This technology can further help them with reducing food waste regardless of any adverse influences of various environmental changes such as population increase, fluctuation of harvest, climate change, etc. CAS is a core technology to promote primary industry into sixth industry. The creation of real independent primary industry is not only to solve food problems but also industrial rejuvenation in marginal areas and isolated islands and providing job for young people. Since capable and energetic youngsters discuss the business plan using CAS with very keen interest, ABI will further challenge to develop technology required by next generation of prime industry such as "Freezing", "Storage", "Freshness keeping", "Forced cultivation", etc.
International Patents:
CAS is successfully installed not only throughout the Japan but also in other several countries seeking for developing the freezing system in their country.
CAS freezing technology obtained several international patents in following countries. CAS with an innovative exploration is precisely approved in those areas and that is the reason that we are able to introduce it to the world with confidence.
ABI currently has continuing corporation in several countries around the world. The countries such as : United States, Canada, Ireland, UK, Spain, France, South Korea, Vietnam, Taiwan, Mexico and China.
Awards and Recognition:


Click image to enlarge
ABI is proud to be recognized around the world for its innovation technology (CAS). It is our great honor to have Japanese and non-Japanese government officials in our company as visitors and receive several awards and recognition.
Forbes, American Business magazine, on its June 2008 issue reported about the CAS technology of ABI. In this issue Mr. Owada, president of ABI Corporation, was called "Mr. Freezer" because of his revolutionary innovation for freezing food after about 100 years since quick freezing system was invented by Birdseye.
Ad Reference ID: 5395337a879a4abd