Listed:

05/21/2014 12:57 pm

Expires:

This ad has expired NEC provides Russia's largest fixed-line telephone carrier with the iPASOLINK EX compact microwave communications system
Date: May 21, 2014
Source: NEC Corporation
Moscow, London, Tokyo, May 21, 2014 – NEC Corporation announced today that its subsidiary, CJSC NEC Neva Communications Systems (NEC Neva), has supplied Rostelecom OJSC (Rostelecom), Russia's largest fixed-line long-distance telephone carrier, with NEC's iPASOLINK EX outdoor, integrated, ultra-compact microwave communications system which supports 70-80GHz E-band communications. The first of the 235 stations were installed in Siberia and North-West Russia in July 2013 and the network is now being expanded to the South of the country and within Siberia.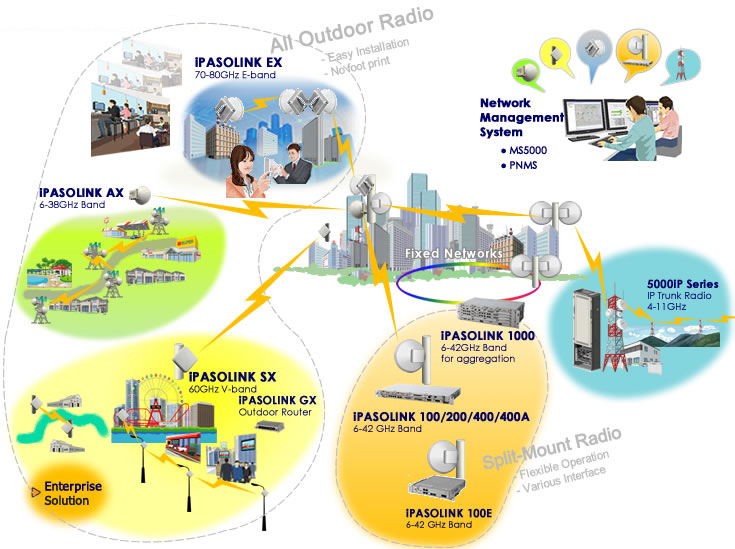 iPASOLINK EX is a compact, lightweight system that is easy to install in a wide range of outdoor locations to provide ultra high speed backhaul for macro and small cell networks to meet rising levels of mobile data demand. Rostelecom is using NEC's iPASOLINK EX system to support its macro network in areas that are inhospitable to dug optical cable, such as Siberia, as well as for back-up use when Ethernet fails due to flooding, fire or other emergency situations. As the E-Band millimeter wave spectrum is unlicensed or lightly licensed in many countries, frequency acquisition costs are very low.
NEC's solution supports1Gbps transmissions due to its pioneering use of a 256 Quadrature Amplitude Modulation (QAM) method, which delivers fast data rates with higher levels of spectral efficiency, and the narrow 250MHz bandwidth.
"NEC has been providing Rostelecom with microwave and transmission systems for over 30 years," said Akihiro Sakurai, Managing Director of NEC Neva Communications Systems. "Over this period, many projects have been implemented, including the construction of the 7,560km (4,700 miles) Trans-Siberian-Line network in 1996 and this latest wireless microwave backhaul upgrade. NEC's selection is recognition of the high level of reliability and the long-term quality of its technologies and services and strong microwave technology product roadmap."
---
About Rostelecom
Rostelecom (www.rostelecom.ru) is one of the largest national telecommunications operators in Russia and Europe. The Group operates in all segments of the telecommunications market and covers more than 34 million households.
Rostelecom is an undisputable leader of the broadband and pay-TV markets in Russia with over 10.6 million fixed-line broadband subscribers and over 7.5 million pay-TV subscribers.
The Group generated RUB 325.7 billion of consolidated revenues, RUB 113.3 billion of OIBDA (34.8% of revenues) and RUB 24.1 billion of net income for the 12 months ended December 31, 2013.
The Group is a market leader in providing telecommunications services to government bodies and corporates of all levels. It is also an important innovator that provides solutions in the field of medicine, E-Government, cloud computing, education, security and housing & utility services.
Rostelecom was assigned 'BBB-' and 'BB+' international credit ratings by Fitch Ratings and Standard & Poor's respectively.
About NEC Corporation
NEC Corporation is a leader in the integration of IT and network technologies that benefit businesses and people around the world. By providing a combination of products and solutions that cross utilise the company's experience and global resources, NEC's advanced technologies meet the complex and ever-changing needs of its customers. NEC brings more than 100 years of expertise in technological innovation to empower people, businesses and society. For more information, visit NEC at http://www.nec.com
NEC is a registered trademark of NEC Corporation. All Rights Reserved. Other product or service marks mentioned herein are the trademarks of their respective owners. (C)2014 NEC Corporation.
About NEC Neva Communication Systems
CJSC "NEC Neva Communications Systems" was established in May 1997 as a local factory of NEC's digital switching system and provides engineering, system integration and professional services. NEC has owned 100 per cent of its shares since Autumn 2009. For detailed information, please, visit the website http://ru.nec.com
Ad Reference ID: N/A