Company Name:

Nikken Engineering Corporation

State/Prefecture:

Fukuoka

City/Town/Village:

Nogata

Street:

4727-1 Kamitonno

Country:

Japan

Zip/Postal Code:

822-0003

Phone:

+81-0949-26-9000

Website:

http://www.nikkencorp.com

Contact:

info@nikkencorp.com

Listed:

07/23/2014 7:03 pm

Expires:

This ad has expired
We have a special pipe bending technology that is of the highest domestic level and also manufacture boiler related equipment. We specialize in complex and 3D shaped pipe bending process, which require advanced techniques. Also, with our own in-house developments, we can conduct a minimal R bending process without wrinkles while keeping ellipticity and wall thickness reduction rate low. *R: "bending radius"
We have a track record of supplying various inner and outer blast furnace equipment like cooling pipes for the domestic blast furnace market for over 40 years. We have delivery records to leading steel manufacturers like Nippon Steel & Sumitomo Metal Corporation. We also have indirect exporting experience to Germany, USA, Mexico, China, and etc.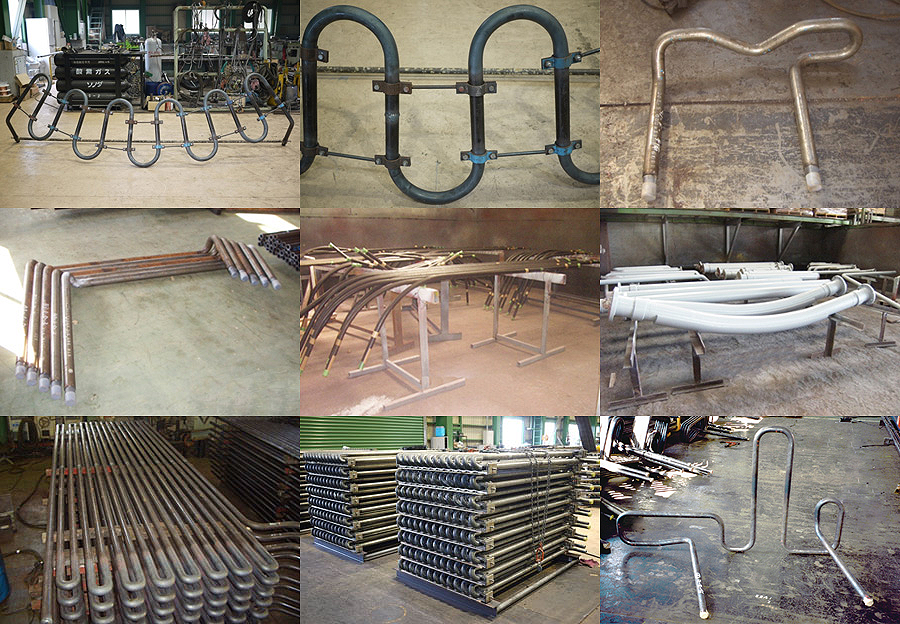 Product / Technology
Minimal R bending process is a special technology with an extremely small bending radius in relation to the pipe diameter (1.0D or less).
Also, due to the development of our own original bending process technology that involves stamping (jig), while other companies require assembling and welding by using joints like elbows and tees, we can conduct a seamless bending process. As a result, we can keep welded joints to a minimum. In doing so, we have a high competitive advantage in "Quality," "Cost" and "Delivery."
Quality
There aren't any welding points, so it can eliminate any defect due to welding.
Since it's processed seamlessly, it's aesthetically superior.
Cost
There aren't any joints, so parts like elbows, tees, etc. aren't necessary.
Since there isn't any welding, auxiliary materials like gas and welding rods aren't necessary.
It can reduce labor costs for welding as well as nondestructive inspection costs like RT, UT, PT, etc.
Delivery
Since it would only involve the bending process and not require welding, it can shorten labor time.
* Operations that can be omitted due to the bending process technology:groove processing, alignment work, welding operation, pressure test, nondestructive inspection, etc.

Application Examples
Biomass and RDF power generation facilities, boiler facilities (superheater and economizer), etc.
Industries: Electric utility, paper, cement and steel/ mining industries with boiler facilities
Ad Reference ID: 32453d0686c0475a