Company Name:

Nitride Semiconductors Co., Ltd.

State/Prefecture:

Tokushima

City/Town/Village:

Naruto

Street:

Itayashima-115-7 Setochō Akinokami

Country:

Japan

Zip/Postal Code:

771-0360

Phone:

+81-88-683-7750

Website:

http://www.nitride.co.jp/english/

Listed:

03/22/2014 7:05 pm

Expires:

This ad has expired
Nitride Semiconductors Co., Ltd. has established by the collaboration with Tokushima University. We took the initiative to develop high brightness Ultra violet light emitting diodes(UV-LED), and provide our products to the customers all over the world.
The compound semiconductor made from Gallium and Nitrogen is called nitride semiconductor and the blue LED is made of the same material. We realized 100nm shorter light emitting than blue LED that was thought impossible to produce.
The fluorescent lamp gets the light by the principle the ultra violet (UV) light that is occurred by the vacuum discharge activate the phosphor and Plasma display gets the full color picture by the same principle. As you know the UV light is the key of products that emit light.
In recent years, ultraviolet lamps in UV irradiators used to cure paints, inks, and even circuit boards, are being replaced by UV LEDs in developed countries. Compared to ultraviolet lamps, UV LEDs have a higher energy efficiency, consuming at least 70% less energy. In addition, they last more than 20 times longer, which reduces waste. Finally, UV LEDs generate less heat, and do not contain the highly toxic compound mercury, and as such, have the advantage of having a much smaller environmental footprint.
UV LED Market: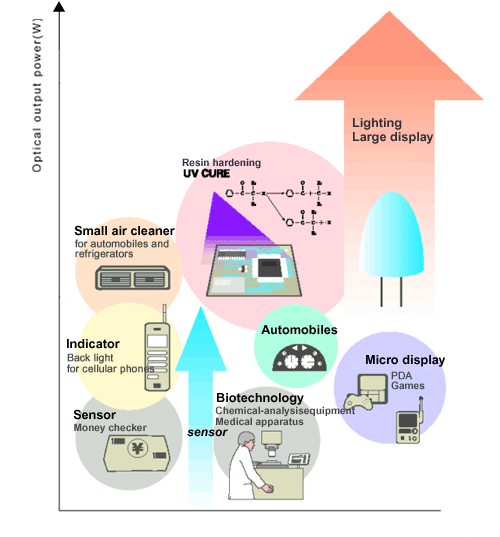 Products:
GaN wafer


We are supplying n-GaN, p-GaN, u-GaN which are produced with epitaxial growth using our proprietary technology. For your future request, we are offering other designed GaN.wafer, InGaN and AlGaN.

UV-LED

UV LED Wafer
We start to provide UV LED wafers which are produced with epitaxial growth using our proprietary technology. The products line-up of UV LED wafers are 355nm, 360nm, 365nm, 370nm, 375nm. Those UV LED wafers are producesd using our original designed MOCVD at our own factory in Japan.
UV LED Chip (die)
We are supplying the reliable and high power UV LED chip (die) to the world. From 355nm to 375nm UV LED chips are available. You can use our UV LED chip effectively and laconically.
UV LED Lamp
We provide high-quality UV LED Lamps which wavelength are 355nm, 360nm, 365nm, 370nm and 375nm. UV LED Lamps are available in two lines, very reliable CAN package (5CLA/5CFA) and high power resin mold package.
UV Power SMD
High power UV LED is useful for UV curing, ink curing or any application which high power is required. User can select the best one with suitable wavelength and optical output power depending on the application.

Device

3D LIME LIGHT
We released 3D LIME LIGHT as UV LED module for lighting or any tests.
3D LIME LIGHT is equipped with 100pcs of our NS375L-5RLO. It is so easily to get the light of UV LED if you plug in.
UV LED Light
UV ray under 375nm is effective in nondestructive inspection like fluorescent penetrate inspection and so on. Our UV LED contains visible light little. Therefore, our UV LED doesn't get in the way of visual work.

Customized Product


It is possible to change the size or wavelength of UV LED. Because we are the specialized manufacture producing UV LED.
Ad Reference ID: 167532e4152d4c86