Company Name:

Terra Foods Corporation

State/Prefecture:

Oita Prefecture

City/Town/Village:

Kunisaki

Street:

1200-1 Ichiba Musashimachi Itoharu

Country:

Japan

Zip/Postal Code:

873-0421

Listed:

01/12/2017 4:11 pm

Expires:

This ad has expired
Manna chips are made using a far-infrared laser baking process. Our technology simply bake the potato pellets dry on the molecular level. This ground-breaking green method gives us the unbeatable <0.5% oil-free chips and still possess the taste of that "sweetness" in their natural state.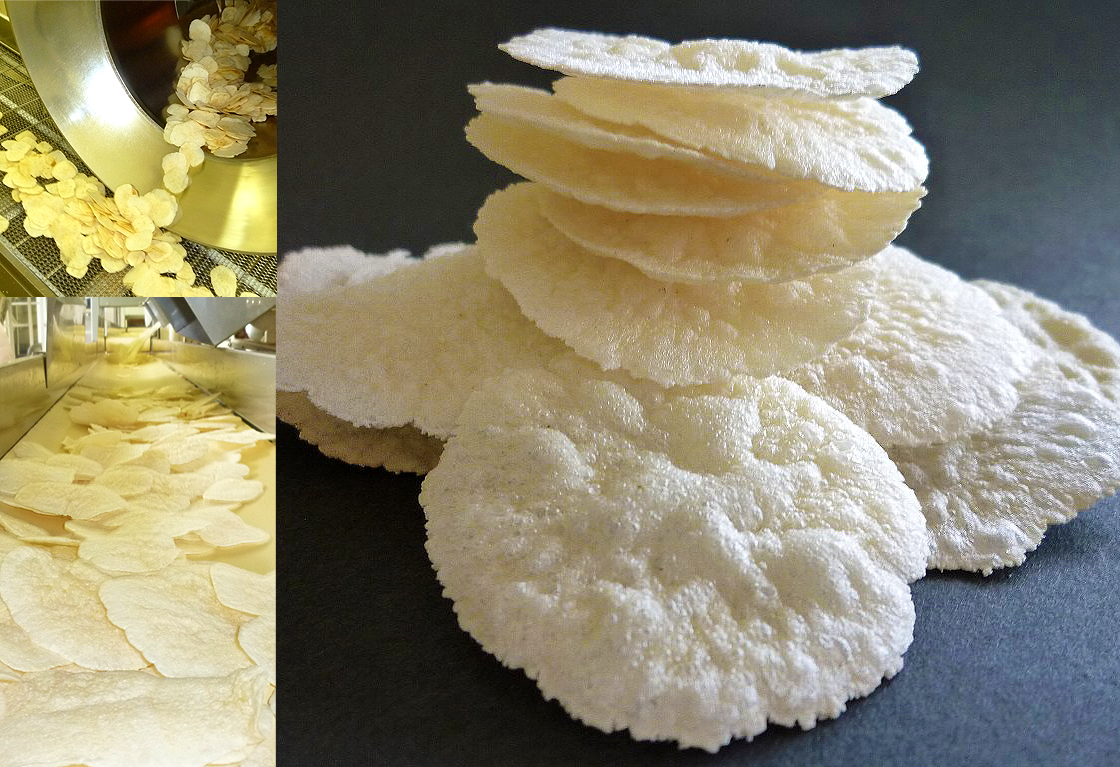 Manna Chips contains the lowest Calories per serving. There, we said it. We strictly focus on containing the oil%, acryl amide and trans-fatty acids which are dangerous byproducts when ingredients are deep fried in oil. Our method of baking chips removes these health hazards altogether. And hence, Manna Chips is the new model of future healthy snacks.
Product Features
133Kcal/pack
World's first oil-free chips <0.5%
Non-Cholesterol/Trans Fat
Non-GMO
No-MSG
Dairy Free
High Quality Ingredients Seasoning
Pure Seaweed & Salt to maximize its *UMAMI
Double processing via Puff & Heat using far-infrared laser.
* Umami, or savory taste, is one of the five basic tastes. It has been described as brothy or meaty. A loanword from the Japanese, umami can be translated as "pleasant savory taste". (Wikipedia)
Ingredients
Dried Organic Potato, Rice Oil, Wheat Starch, Kamishin Powder, Granulated sugar, Sea Salt, Protein Hydrolyzate, Kelp Extract Powder, Yeast Extract, Processed Starch,Seasoning (Amino Acids), Antioxidants (Vitamin C)
Our Mission
Our mission is to "create a food that helps our human body". We emphasize the importance of "Oil-Free" chips, which unlike other chips in the market, contain NO Trans-Fat or Acrylamide substances that could potentially cause cancer and obesity.
Our Motto
We would like to respect our company's "No Waste" motto, and bring the idea to the world. Thus, we partner with Imperfect Produce & obtain all our ingredients directly from certified organic local farms that are unavailable in retail stores because they did not meet the visual standards for consumer purchase; sometimes referred to as the "ugly" or "imperfect produce".
About US
Our original company is based in Japan, call Terra Foods, has been established since 2000. While consumer started to be aware of Non-GMO or Organic standard, and we are more focusing on safety and healthy. Our chips are popular among Japanese of all ages because of its health factors. We wish to bring these chips to the world to provide the same healthy choices for the consumers here.


Watch Manna Chips's video here.
Ad Reference ID: 76587816d42b982