Company Name:

Fukuoka Shoyu Co., Ltd.

State/Prefecture:

Mie

City/Town/Village:

Iga

Street:

1330, Shimagahara

Country:

Japan

Zip/Postal Code:

519-1711

Phone:

+81-59-559-3121

Website:

http://www.hasamezu.com/shop/

Contact:

+81-595-59-3171 (Fax)

Listed:

04/16/2014 9:06 pm

Expires:

This ad has expired

Established more than 100 years ago, Fukuoka Shoyu(Soy Sauce) is a brewing house located in the mountains of Iga City, Mie Prefecture. We believe the importance of merging with nature, and have been using the same traditional tools and brewing house since our establishment without relying on modern technology at all. Registered as a tangible cultural property and recognized by Mie Prefecture, our brewing house is visited by several tens of tourist groups every year.
In addition to inheriting the tradition, we also strive to incorporate modern creative efforts by taking on novel challenges unprecedented in the country.
We will continue our endeavor to produce the best soy sauce that is well-loved not only by the local customers, but also people from all over Japan and the world.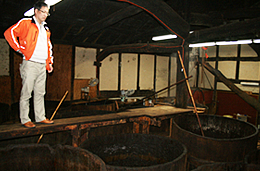 Soy Sauce Brewing Tradition for Over 100 Years
The reason for the continued use of the century-old brewing house and tools is because yeast that is found all over the brewing house forms the source of Fukuoka Shoyu's soy sauce. Many of the soy sauce manufacturers make use of soybean meals, which are soybeans with oil extracted. At Fukuoka Shoyu(soy sauce), we adopt a traditional technique that uses whole, unprocessed soybeans. It is extremely rare today to find brewers that maintain the traditional tools and manufacturing process like we do.
Tradition and Future of Soy Sauce
In addition to upholding the manufacturing techniques and factory, which we have inherited since the establishment of Fukuoka Shoyu, we have, as part of our effort to add variation in the modern age, developed a new line of products, the "Hasamezu Soy Sauce" series.
Being "processed soy sauce" products, this series can be used for your dishes more easily than conventional soy sauce products. We have received orders for this series from Japanese restaurants in different regions. Also, we have obtained Halal certification, and are ready to deliver our products to all parts of the world.
Products:
Hasamezu KOIIRO Series


Our best-selling product, made from merging the traditional techniques, which are handed down since the establishment of Fukuoka Shoyu-Ten, with new, innovative ideas. This all-rounded series can be used for a wide variety of purposes, such as for dipping, sprinkling, or stewing.

Special Hasamezu: TOKOSHIE


TOKOSHIE is an ancient word meaning "eternity". We chose this particular name to express our dedication towards the future preservation of the role of traditional soy sauce in Japanese dietary culture. It's plain taste ideally matches light-colored sashimi,such as sea bream or flounder.
Please check other products on our online site
Ad Reference ID: 160534f535a22368