Company Name:

Japan Algae Co., Ltd.

State/Prefecture:

Tokyo Prefecture

Street:

2-14-5 Kamiosaki, Shinagawa-ku

Country:

Japan

Zip/Postal Code:

141-0021

Phone:

+81-3-3473-8008

Listed:

07/16/2017 12:00 am

Expires:

This ad has expired
Japan Algae Co., Ltd. is No.1 Spirulina and Organic Germanium manufacturer in Japan. We have been in the market since 1980 and have been manufacturing and distributing Spirulina and Organic Germanium products for over 30 years.
We are very proud to say that we take top share in the Japanese market and have been highly praised by our customers from all over the world. Our products have been wining first places at ranking in RAKUTEN, which is the largest internet shopping mall in Japan, and we have received positive review by more than 3,000 customers. We also selling in Amazon
, and we received 100% positive review.
We manufacture our product under the high level of quality control and strict manufacturing management. All of our products are manufactured at our own factory in Japan, which is located at the base of Mt. Fuji and it is certified by JIHFS health food GMP. JIHFS GMP conforms to the GMP Guideline by the Japanese Ministry of Health Labor and Welfare.
You can see GMP certification here ».
In recent years, after gaining the dominant position in the Japanese market, we advanced into Asian market and the sales in these area are steadily growing. We aim to expand our sales channels to the North America and Europe.
We would be very grateful if you could give us your feedback and comments. Your inquiry will be always welcomed and we will try to serve to your fullest satisfaction.
What is Spirulina?
Spirulina is the oldest plant(algae) which appeared on the earth more than 3.5 billion years ago. For a long time, spirulina has grown in a salt lake of the tropics like Africa and Latin America. People in these area used spirulina as food. Although they didn't have the knowledge of modern nutrition, they would know spirulina is an excellent nutrition food by their sense based on their experience. It is 1945 when spirulina started to be known in modern society. (Although spirulina was known by only native people who lived around growth area, spirulina became foods which get attention in the world because Dr.Clement from institut français du pétrolent, introduced spirulina at Microbial conference.
It is acknowledged that spirulina is much superior to chlorella, which is known as microalgae same as spirulina, in terms of cultivation, nutritional balance and digestibility. Now it is recognized worldwide that spirulina is safe healthy food and spirulina is a popular nutritional supplement taken by Hollywood superstar and celebrity.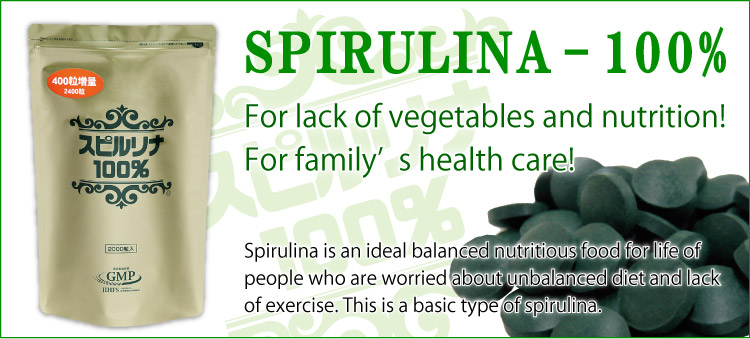 Spirulina
What is Organic Germanium?
Germanium in water is an organic substance converted within bacteria from inorganic germanium contained in soil and minerals. Germanium-containing water has long been used for human health in many places.
Organic germanium is synthetic supplement which is able to be used safely as health food, cosmetic product, germanium warm bathing, bath agent, and so on. It is characteristic that there are many people who feel surprisingly health and anti-aging effect by many kinds of great function. It gets high evaluation by people in forties, people who have sickness and people who want to keep their youth, and hard worker.
Japan Algae Co., Ltd. has been manufacturing safe organic germanium which purity is 100% by our own manufacturing process for about 30 years since we established technology of organification in 1980.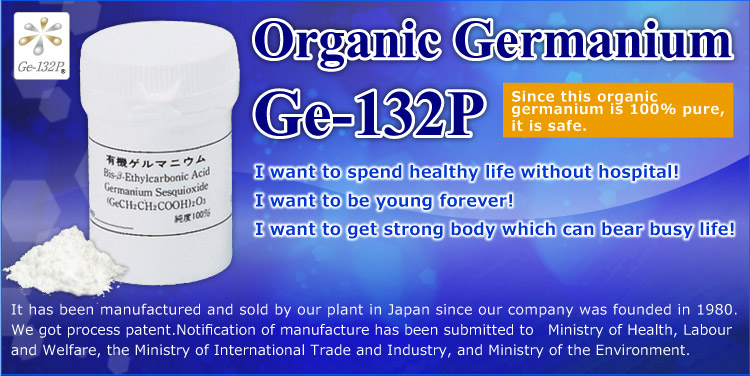 Organic Germanium
How to purchase
You can purchase their products from Amazon or Rakuten Global below.
Ad Reference ID: 5495969d9286b0bf