Listed:

05/10/2014 8:08 pm

Expires:

This ad has expired Japanese Carmakers Post Record Profits
Date: May 9, 2014
Source: NHK World
Major Japanese car makers have posted record profits for fiscal 2013. Seven major auto makers, except for Nissan, released their earnings reports by Friday. All of them marked gains in both sales and profits for the fiscal year ending in March. Six, including Toyota and Suzuki, reported record-high operating profits. The gains are attributed to the weaker yen, which increased profits from overseas.
A pre-spring shopping spree ahead of Japan's consumption tax hike in April also contributed. Six of the 7 companies predict gains in sales and profits for the current fiscal year. They expect their overseas sales will likely continue to grow.
But uncertainties are looming in key markets such as Thailand, where there is political unrest. The outlook for emerging economies, including Indonesia, also remains unclear. Rival automakers outside Japan are also trying to maintain a competitive edge. They're unveiling models assembled in China and Southeast Asia.
---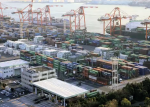 Trading Firms Report Record Profits
Date: May 9, 2014
Source: NHK World
Four major Japanese trading firms have reported increased profits for the 2013 fiscal year. Four of the country's five major trading houses saw their net profits go up for the year that ended in March.
Mitsubishi reported a profit of 4.4 billion dollars, up 23 percent from the previous year. Mitsui's profit went up 37 percent to 4.2 billion dollars. Itochu logged 3.1 billion dollars in profit, up 10-percent and Marubeni, 2.1 billion dollars, a 62-percent increase. Itochu and Marubeni posted record profits last business year.
But, Sumitomo posted a four-percent decline. A weaker yen and robust food imports and auto sales in Asia's emerging economies are factors behind the profit increase.
Ad Reference ID: N/A