Listed:

07/03/2014 1:31 am

Expires:

This ad has expired
One Of The World's Largest All-LED Indoor-Farmscompleted In Miyagi Prefecture State-Of-The-Art Agriculture From Japan's Tohoku Region To The World
Date: Jul 2, 2014
Source: EFY Times.com
Wednesday, July 02, 2014: Mirai, Inc. has completed an indoor farm at Miyagi Fukko(Reconstruction) Park located in Tagajo, Miyagi Prefecture, as part of a program subsidized by the Ministry of Economy, Trade and Industry (METI). One of the world's largest plant factories using LED lighting throughout, the facility can produce a daily harvest of approximately 10,000 heads of lettuce.
The indoor farm was created through the renovation of an existing building that was previously an electronic device factory at Sony Sendai Technology Center in Miyagi Fukko Park, utilizing the structure's special characteristics, such as clean-room facilities, thermal insulationsystemsand high ceilings. Kajima Corp. was in charge of the facilities design and construction, as well as engineering of a rack system for cultivation, while GE Japan Corp. is responsible for the specialized indoor farm LED lights.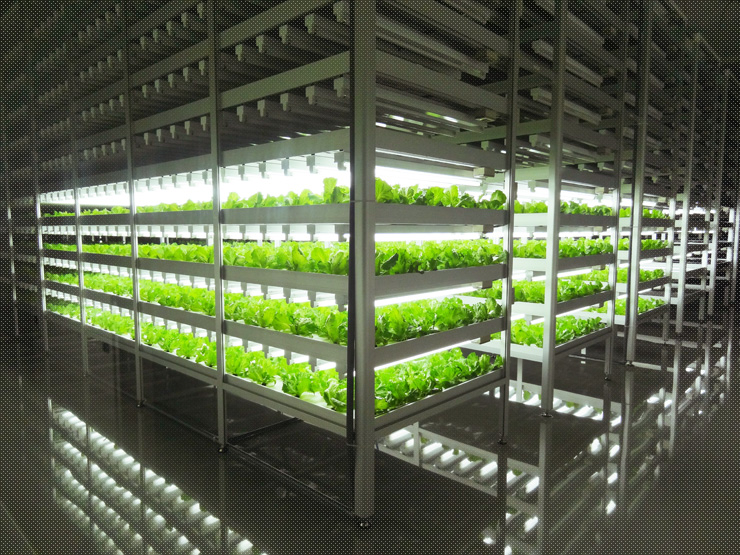 Supporting recovery and new industry in Tohoku through advanced agriculture
Miyagi Fukko Park was established by the Miyagi Organization for Industry Promotion at facilities on loan from Sony Sendai Technology Center as a center to assist in the recovery of manufacturing industries and for the generation and development of new industries in the Tohoku region, which was devastated by the Great East Japan Earthquake.
Immediately following the Great East Japan Earthquake, GEJapan initiated new projects in the agricultural sector aimed at supporting the reconstruction effort for the Tohoku region. In undertaking this effort, GE Japan partnered with Mirai, which has abundant know-how in this field. With a view to expansion in operational scale, and with Mirai as its main constituent, the project was subsequently selected as a "Research and Development Project for the Creation of New IndustryThrough IT Integration" by the Tohoku Bureau of the Ministry of Economy, Trade and Industry.
Since April 2012, GE-made LED lighting, water processing and data analysis systems have been among those in use in the ongoing research and development project at the indoor farm installed within Miyagi Fukko Park.
Main Themes
Using IT to optimize environmental control within artificially lit indoor farms (light sources, temperature, humidity, CO2 density, ph levels, etc.)
Development of LED and optimal lighting design schemes for high efficiency (of energy use and cultivation), ensuring economical operation, (early ROI).

Main Efforts
The software developed exclusively based on Mirai's many years of accumulated cultivation know-how, GE-made sensors and GE analytical systems are central to the optimal control of the farm's internal environment.
Economic issues resolved:
Development of plant growth LEDs by GE's Lighting Dept.
Wavelength optimization and lighting design taking into account use of LED lighting throughout the entire process of cultivation (a collaborative effort).
Main Results
Control systems were built around a core of sensors and analytical systems, achieving optimal management of the cultivation environment.Also, the integration of developed control systems with IT enables remote monitoring and control.
Economy was improved through development of plant growth LED lighting and optimal lighting design.
Reduction in energy consumption for lighting through LED use (approx. 40% less than with GE-made fluorescent lamps*)
Process optimization using optimized LED lighting and wavelength. Harvest volume per cultivation lot increased as a result.
Mirai drew up plans for the indoor farm at Miyagi Fukko Park in response to an open solicitation by METI's Innovation Center Assistance Program for projects that could qualify for subsidies as advanced technology demonstration and evaluation facilities.
Construction overview
| | |
| --- | --- |
| Construction period: | September 2013 to March 2014 |
| Floor space: | Fapproximately 2,300 m2 |
| Cultivation racks: | 6-15 levelsx18 |
| LED lights: | about 17,500 |
Ad Reference ID: N/A