Company Name:

Mitsuya Co., Ltd.

State/Prefecture:

Tokyo

Street:

3 Chome-8-11, Nishigotanda, Shinagawa

Country:

Japan

Zip/Postal Code:

141-0031

Phone:

+81-3-3492-7197

Website:

http://www.mitsuya-plating.com/

Listed:

02/21/2016 9:35 am

Expires:

This ad has expired
Mitsuya was established in 1931, and has provided a wide range of the plating services and finishing services for various industries. Plating technology is basically used for cosmetic improvement of the products, corrosion resistance of the products, and functional property improvement of the products (substrates) now.
Mitsuya has concentrated on the plating services and finishing services for functional property improvement of industrial products. So, we have many results and achievement by developing our advanced technology of plating and finishing.
Recently, our plating technology was adopted in the experimental equipment of Space shuttle Endeavour by U.S. National Aeronautics and Space Administration (NASA) for a space development.
Our Metal platings & Finishings
Mitsuya has been providing various metal platings & finishings, by our advanced engineering solution on the industrial plating and finishing functional properties.
Examples: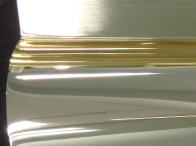 High reflective Gold plating
As a bright metal, it has been known that silver plating have a high reflectance in a wide wavelength range. However, silver plating is easy to discolor in the air. Therefore, Mitsuya developed a High reflective Gold plating to solve this problem. Astronaut Mamoru Mohri who is also an scientist was performed to the experiment to make the alloy in space, …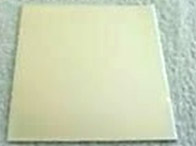 Gold-Tin alloy plating
We offer a plating deposit as a lead-free solder for high-temperature connection, and as a solder for high-strength and high-reliability connections. Both rack plating and barrel plating are available. We can provide the thinner plating deposit than sheet material or ribbon material. And we can also form the deposit on the selected portion. The eutectic and non-…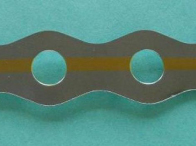 Direct Gold plating on SUS without Ni under plating
Stainless steel surface is very stable material. It is because the surface is covered with a strong oxide film. In the past, the process of to the oxide film was difficult. In addition, when you needed a gold plating on top of the stainless steel, you were required to apply to the nickel as the first under layer. There is a possibility that nickel causes a metal …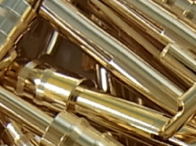 Hard Gold plating
We can provide the wear-resistant gold plating for sliding contact surface. Durability in sliding and insertion and removal is required to the plating for connectors. Our hard gold plating meets this request. The connector has been using the gold-plating of Hk 150 hardness or more. Hard gold plating deposit is obtained from the plating bath with Ni and Co. Our …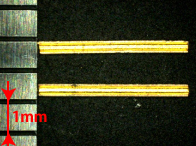 Gold plating on the inner side of fine pipe
Special gold plating technology for depositing an inner side of a fine pipe. The thickness of the inner side plating obtained by this new process is 5 times of one obtained by the conventional process.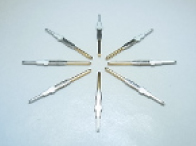 Gold Iron alloy plating (Cobalt and Nickel free)
Our Gold-Iron alloy deposit is a hard gold plating. Hard gold plating usually contains cobalt and/or nickel as a hardening agent. However, cobalt and nickel, these can cause a metal allergy. By the addition of iron instead of cobalt and nickel, no longer worry about the metal allergy. Gold-Iron alloy plating gives the contact resistance …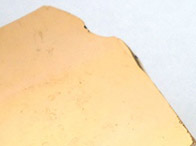 Electroless Gold plating (immersing type for thin deposit)
This plating is used when we need to form a thin gold plating on the nickel surface. Plating thickness is less than 0.05μm. This plating can be applied to deposit on the independent circuit pattern, because of the electroless plating type. Features of electroless gold plating (thin) of Mitsuya is as follows. Good solder wettability and good joint strength…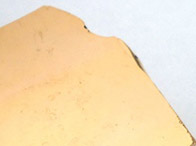 Electroless Gold plating (reduction type for thick deposit)
This plating is used for the plate on the circuit substrate having independent patterns which need a good solderability and a low contact resistance. This can be used when we need a thick electroless gold plating. Features of electroless gold thick plating of Mitsuya are follows. This electrolress gold plating has a stable deposition rate, you can …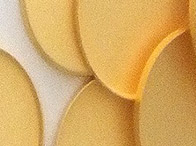 Matte Gold plating
This plating is soft gold deposit which closes to the characteristics of the gold, and has purity 99.9% or more. The characteristics of this deposit are good corrosion resistant, low electrical resistivity, good bondability. The hardness of this deposits is form 80 Hk to 110 Hk. This plating is also used for a reflecting mirror …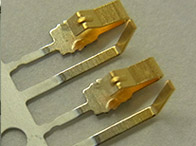 Reel-to-reel Gold and Tin plating
We can plate nickel, gold, tin on hoop materials partially and precisely in the reel-to-reel line. We can provide a gold deposit on the portion where you want. The hoop material has a three-dimensional structure, and is also available with a simple jig. This technology can be contributed to the cost reduction. Furthermore, it has an advantage on fast delivery because three types of plating (Ni, Sn, Au) are done in one line …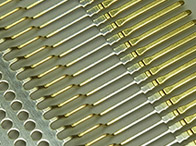 Reel-to-reel Gold plating
Our reel-to-reel gold plating enables the partial deposition and is contributed to the cost reduction.
Functional property: High Conductive, Low Contact Resistance, Good Bonding & Soldering
Industry employed: Electronics components (Sensors)
Reel-to-reel Gold and Tin-Copper alloy plating
This plating system is useful to the quick delivery and the labor saving. By using this line, it is performed for gold reel-to-reel plating on the contact portions and tin-copper solder alloy plating on the soldering or caulking portions. Nickel plating is for the under layer.
Also, we can provide various other plating. If you can, please contact us.
Ad Reference ID: 91656c9f16b39323