Listed:

06/05/2014 10:53 am

Expires:

This ad has expired
Japanese Firm Uses a Single-Worker System to Make Its Products
With the Help of Digital Tools, Any Roland DG Employee Can Build Any Product
Date: Jun 1, 2014
Source: The Wall Street Journal – by Mayumi Negishi
HAMAMATSU, Japan—At Japanese manufacturer Roland DG Corp., assembling thousands of parts into wide-format printers is as easy as coloring by numbers.

That's because Roland DG, a small company with about $300 million in annual sales and 966 employees, makes everything from billboard printers to machines that shape dental crowns using an advanced production system known as "D-shop."
Under this method, workers in single-person stalls assemble products from start to finish, guided by a 3-D graphic and using parts delivered automatically from a rotating rack. Every worker is capable of assembling any variation of the company's 50 or so products.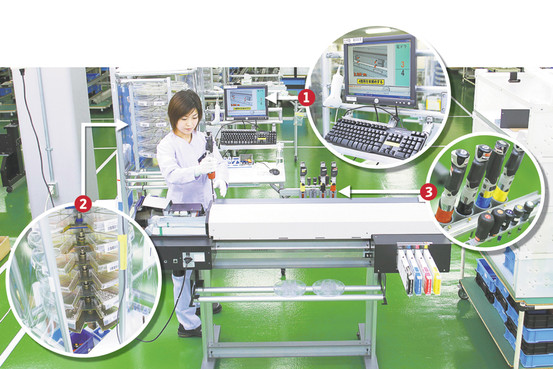 A Roland worker making an industrial printer follows prompts on the computer (1), pulling pieces from the rotating parts rack (2) and using digital screwdrivers (3) that track number of turns and torque. Roland
Noodling Around
The evolution of Roland DG, which is 40%-owned by digital piano maker Roland Corp., started in 1998, when it became one of the first companies in Japan to abandon the assembly line in favor of one-person work stalls modeled after Japanese noodle stands. With orders coming in smaller and smaller lots, Roland DG decided it needed a manufacturing system in which a single worker could build any one of its diverse products.
Since then, Roland DG has been experimenting with increasingly high-tech aids and instruction manuals to make that happen.
On a recent day in Roland DG's factory in Hamamatsu, a city in central Japan, one employee was assembling from scratch an industrial printer that ultimately would be more than twice her size and weigh almost 900 pounds. Another worker who had just joined the company's fleet of part-timers was making a prototype milling machine. Yet another was assembling the dental-crown milling machine.
Anyone, Anywhere
A computer monitor displays step-by-step instructions along with 3-D drawings: "Turn Screw A in these eight locations" or "Secure Part B using Bracket C." At the same time, the rotating parts rack turns to show which of the dozens of parts to use. Meanwhile, a digital screwdriver keeps track of how many times screws are turned and how tightly. Until the correct screws are turned the correct number of times, the instructions on the computer screen don't advance to the next step.
Workers are rarely confused, but when they are, there's a button to press that will bring the floor manager running to help.
Ad Reference ID: N/A