Company Name:

AQUAPASS Co., Ltd.

State/Prefecture:

Saga

City/Town/Village:

Nishimatsuura

Street:

325-3 Hei Kitanokawauchi Aritamachi

Country:

Japan

Zip/Postal Code:

849-4166

Phone:

+81-955-46-5631

Website:

http://aquapass.net/en/

Contact:

http://aquapass.net/en/contact.html

Listed:

06/25/2014 5:20 am

Expires:

This ad has expired
We are developing of cleaning machines for precision equipments such as Coated parts, Lithium ion battery cases, HDD component parts, SMT parts, IC packages, FPC boards, Glass plates, CCDs, and etc.
We can solve the problem with cleaning treatment of your products
High cost of wastewater treatment
Product quality and speed
High running cost of solvent

Our "AQUAPASS" is able to perform the cleaning by ultrasonic and water. AQUAPASS mainly works in the areas of PWB, IC packages, PDP panels, HDD parts, Automotive products, Lithium battery and so on.
It is the cleaning equipment with water only without solvents.
It realized the efficiency of direct cleaning method.
It can clean and dry with one-pass operation.

Strength of AQUAPASS
Ultrasonic Cleaning


The parts are transferred through the ultrasonic cleaning section by being held between the top and bottom net. In ultrasonic section, the cavitation caused by wave from the top and bottom, make important role in the process oil and particle cleanings. The cavitation power is proven in the finger print cleaning methods such as the use of Freon.

Drying


The dry process has been said that it is the most difficult part in the water cleaning system. However, this equipment dries the parts completely without the problems caused by the traditional water cleaning equipment. The solution is the use of high pressure blow to blow off the water on the parts without drying, and the engineered nozzle, which made the high pressure blow possible. Furthermore, the electric power consumption fee will be one tenth of traditional dry system due to the use of high pressure below.

Water Recycle System


DIW (deionized water) is used in the pre-shower and ultrasonic cleaning sections. The water is filtered 6 to 10 times in one hour, so the water's cleanness is kept as the original level even in the continuous cleaning process. Therefore, there is no need to have additional water recycle unit.

Feature of AQUAPASS
Cleaning and drying with water and air


We don't use solvents, surfactants) low cost running and high safety.

Water recycle system


It is a pollution free system.

Ultrasonic cleaning from the top and bottom


Damage free and high efficiency

Instant dry with air blow


Leaves no water marks

Net conveyor system


Thin plate can be cleaned, small parts in tray or case can be put on conveyer as well.

We have delivered many type of cleaning machine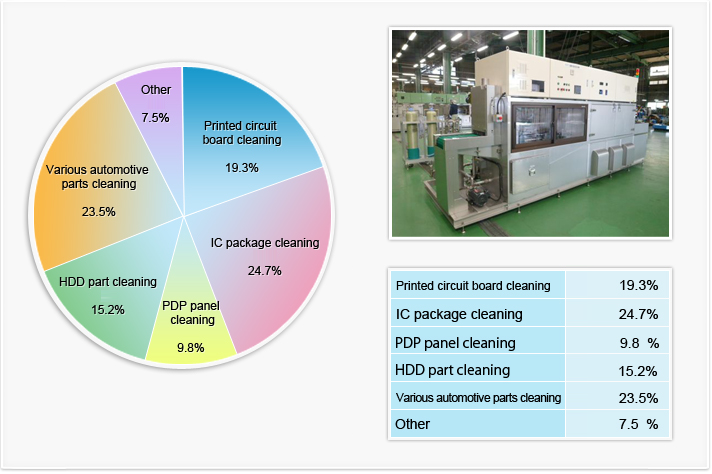 Our Suppliers
AICHI STEEL
KYOCERA
NIPPON STEEL & SUMIKIN Electronics Devices
SONY
TAIYO MANUFACTURING CO., LTD.
TIBC Co., Ltd.
Nidec
Panasonic
Hitachi Maxell
Honda
Yamato Denki Ind. Co., Ltd.
TDK
IBIDEN
SUNCALL-KC
Sumitomo Electric Printed Circuits
DAISHO DENSHI
Tsukada Riken Industry Co., Ltd.
DENSO
NODASCREEN
Hitachi Metals, Ltd.
KYODEN
Lock Minebea
HOYA
More than 400 suppliers
Ad Reference ID: 84153aabc43d7a50