Company Name:

Automotive Energy Supply Corp.

State/Prefecture:

Kanagawa

City/Town/Village:

Zama

Street:

2-10-1 Hironodai

Country:

Japan

Zip/Postal Code:

252-0012

Website:

http://www.eco-aesc-lb.com/en/

Contact:

kojima-kyouzou@eco-aesc.com

Listed:

09/21/2014 12:57 am

Expires:

This ad has expired
AESC is a manufacturer of high performance lithium-ion batteries for automotive applications, which was founded on April 19, 2007 as a joint venture between Nissan and the NEC Group. AESC started mass producing lithium-ion batteries for the "Nissan Infiniti M Hybrid" in October 2010 and for the "Nissan Leaf", a 100% electric vehicle, in November of that same year.
Moreover, mass production technology cultivated by AESC has been introduced in Nissan plants in England and the United States where lithium-ion batteries designed and developed by AESC are now being produced using expertise from AESC. AESC is the world's largest manufacturer of lithium-ion batteries for automotive applications and fulfills the role of a mother plant that dispatches cutting-edge technology from Japan to the rest of the world.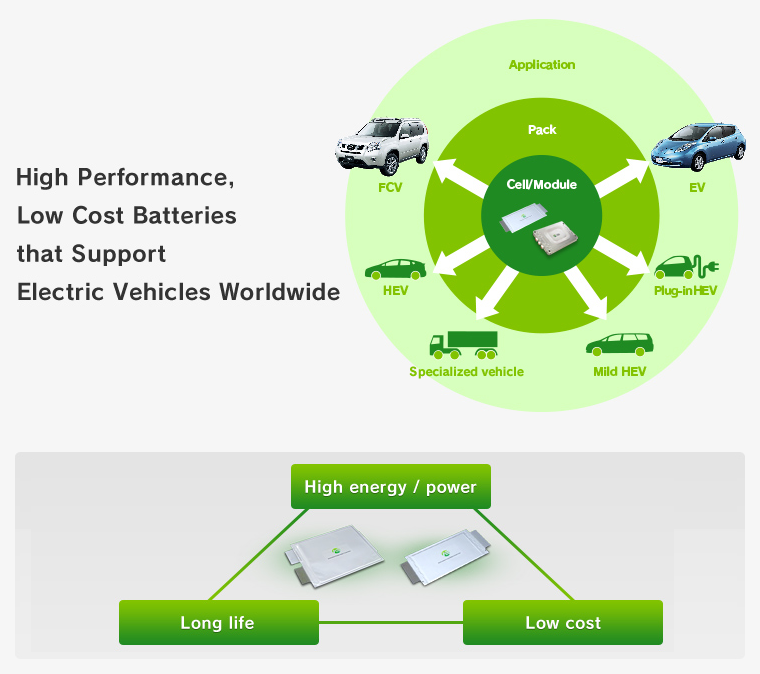 Our Technology
AESC inherited the results of R&D conducted by both Nissan and the NEC Group and has reached the stage of real world applications with our batteries now being used in mass production vehicles. With these results, we have established a foundation of mass production capabilities and products that exhibit not only cost performance but also performance and quality that are backed by the safety performance that is essential for automotive applications. With this foundation, AESC will continue to endeavor to provide advanced lithium-ion battery products to a wide range of customers around the world.
Batteries for automotive applications require a balance between advanced safety, performance, and cost, so the ideal manganese-based cathode material that satisfies this requirement is adopted.

AESC utilizes lithium manganate as the cathode material. Some benefits of lithium manganate include (1) the fact that it demonstrates superior safety performance with a crystalline structure that does not change even in an overcharged stated, and (2) the fact that manganese reserves are abundant, and the market price is stably maintained at a low level.


A laminated cell shape that enables both excellent heat dissipation and a lighter weight, more compact design.

AESC's cell is a sheet shaped cell that is sealed by a laminate film. Because of the broad surface area, the cells demonstrate excellent heat dissipation, and because of their simple, compact structure, the cells provide a high degree of design freedom to accommodate loading the batteries into a vehicle.
Ad Reference ID: 916541e82ff73ed4