Company Name:

DAISAN corporation

State/Prefecture:

Tochigi

City/Town/Village:

Ashikaga

Street:

15-16, Omata minamicho

Country:

Japan

Zip/Postal Code:

326-0142

Phone:

+81-0284-63-2287

Website:

http://e.daisan-ecotech.com

Listed:

04/10/2014 3:35 pm

Expires:

This ad has expired
DAISAN was established as a manufacturer of die for plastic molding in 1981. We then focused our business on a fine resin filter whose mesh and frame parts were integrally molded, which led to an invention of "derivative limb" technology and acquisition of its patent. The derivative limb technology is to guide molten resin to flow smoothly in the complicated die during plastic injection molding. In the field of plastic molding, patent acquisition is said to be difficult, but luckily, novelty and inventive step of our "derivative limb" technology were evaluated highly and the patent right was granted.
We have been utilizing this "derivative limb" technology since then to introduce to the market variety of complicated or fine shape molded products such as filters for air conditioner, thin-make tray, slider board, slider stock, and DAISAN eco boxes, which are difficult to manufacture with conventional technologies. All of our products are made of single material and are environmentally friendly, as they can be crushed and regenerated easily once they become unnecessary.
Products:
---
Technology:
As shown in the photograph below, it was difficult for us to visually find any distortion on the board surfaces for the pressures of 15 tons or less.
For the pressures of more than 15 tons, the board surfaces were visibly distorted in proportion with the increased pressures but the maximum height of distortion for 40 tons was only about 0.4 mm.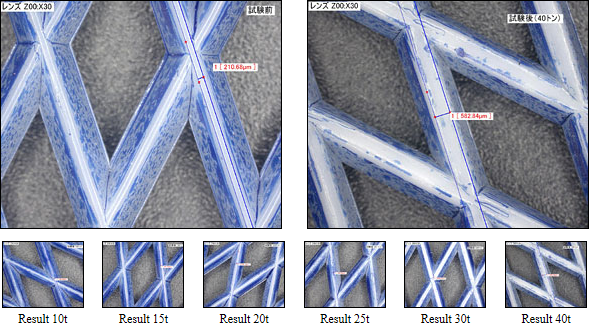 ---
Ad Reference ID: 95453471ca080b07