Company Name:

MORI SEIKI CO., LTD

State/Prefecture:

Aichi

City/Town/Village:

Nagoya

Street:

2-35-16 Meieki, Nakamura

Country:

Japan

Zip/Postal Code:

450-0002

Website:

https://www.dmgmori.co.jp/en/

Listed:

08/19/2013 10:14 am

Expires:

This ad has expired
Being the No.1 Machine Tool Company for Customers. That Is Our Global One
Mori Seiki has always been supporting the basis of manufacturing as one of the general cutting machine tool manufacturers. The process was always the history of changes and challenges. And now, what we are aiming for. That is to be the No. 1 machine tool company for customers. We always pursue the best technology and service, and provide new value and unlimited potential of machine tools to the customers.
Machine Tools Which Enrich Your Life
Most of the components, dies and molds which make up many industrial products such as automobiles, trains and mobile phones that we take for granted in our daily lives are manufactured by machine tools. And the industrial machines themselves, which assemble parts into various products, are also produced by machine tools. It is no exaggeration to say that machine tools make our lives convenient.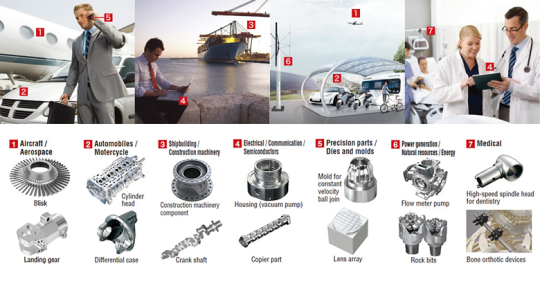 Our Works
Aircraft / Aerospace


Blisk, Landing Gear

Automobiles / Motercycle


Cylinder Head, Differential Case

Shipbuilding / Construction Machinery


Construction Machinery Component, Crank Shaft

Electrical / Communication / Semiconductors


Housing (Vacuum Pump), Copier Part

Precision Parts / Dies and Molds


Mold for Constant Velocity Ball Join, Lens Array

Power Generation / Natural Resources / Energy


Flow Meter Pump, Rock Bits

Medical


High-Speed Spindle Head for Dentistry, Bone Orthotic Devices
Mori Seiki's Products
CNC Lathes


The lathe, which is based on the principle of the potter's wheel, rotates a workpiece (material) attached to the spindle and performs cutting by placing a cutting tool against the workpiece. This is a representative model of machine tools and is the starting point for Mori Seiki's machine tools. Mori Seiki started manufacture and sale of high-speed precision lathes in 1958 and started manufacture and sale of numerically controlled machine tools (CNC lathes) in 1968. Since then, we have delivered over 100 different models of lathes.

Machining Centers


Machining centers use rotary tools that are attached to the spindle, and perform machining for a great variety of workpieces from round and rectangular items to complex shapes that are mounted on the table driven at high speeds. These are equipped with the Automatic Tool Changer (ATC) and can handle a wide range of machining from chamfering, drilling, boring and tapping. They are divided into vertical and horizontal types according to differences in the orientation of the spindle and the drive axes.

Multi-Axis Machines


This machine features the integration of the turning function for lathes and milling for machining centers. It is equipped with the combination of our original technology, including thorough measures against thermal displacement and equipping of the 3D interference check function as standard.

Application Systems


We have a wide range of application systems that increase customers' productivity and efficiency: the MAPPS Ⅳ high-performance operating system that combines the best hardware in the industry and advanced application/network systems to achieve maximum ease of use; as well as the MORI-AP Series of the automatic conversational programming systems.
Ad Reference ID: 4035212525eefe13