Listed:

06/04/2013 11:41 pm

Expires:

This ad has expired Hand-embroidered carpets integrating excellent design with traditional techniques achieved by continual production from spinning and dyeing to weaving and finishing
Source: The Japan Machinery Federation
The technique backed by tradition and craftsmanship is capable of embodying the sense of beauty of the 21st century
A number of carpets manufactured by the company have been delivered to places representing the nation, such as Imperial Household buildings including New Imperial Palace and Fukiage Palace, national organizations including State Guest House and Supreme Court, embassies of various nations, and overseas places such as Vatican Palace and Embassy of Japan in the United States. The tradition and quality of the carpets are maintained by controlling all the manufacturing processes within the company. The processes including spinning and dyeing (over 13,000 colors are in stock), weaving by the hand of skilled craftsmen, company's unique chemical lustering process called mercerization, along with spreading of carpets of the size as large as 300 tatami mats and maintenance after delivery (recovery and cleaning at the factory), are all performed by the company. In addition, the company is positively addressing new challenges including collaboration with other fields, creation of artistic products, and provision of factory tour to deepen understanding of people of traditional techniques and for the marketing purposes.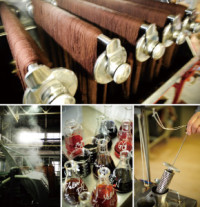 To sustain the livelihood of local people, a Chinese technique was introduced and nurtured as a hand-woven carpet manufacturing technique in Yamagata Prefecture
Persian carpets and Chinese Dantsu carpets are regarded as the best of the best of hand-woven rugs in the world. The company name, Oriental Carpet Mills Co., Ltd. represents the tireless spirit of the company to create products comparable to the world's two best brands. The company was given this name after the war.
"Our company started its operation in 1935. The Tohoku district at that time was suffering poverty resulting from poor harvest and economic downturn. To escape from that situation, we started carpet-manufacturing business as local business stimulus measures, inviting seven Dantsu craftsmen from China."
Before long, the carpets began to take roots as "Yamagata Dantsu," which was exported vigorously after the war. One was delivered to the Audience Room of the Vatican Palace. The technique had thus come to be evaluated highly over the world. Then came the years of steep economic growth. A number of large government and public buildings were created, skyrocketing the domestic demand.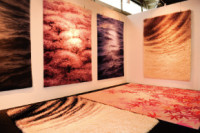 "The traditional hand-weaving only was not sufficient to satisfy the increasing demand. To save labor while maintaining high quality, we adopted "hand-embroidering technique."
With conventional hand-weaving technique, warp threads are stretched over a large wooden frame called "Shokka" (weaving rack). On the back face of the frame, a full-scale design drawing (with colors to be used shown by numbers) is hung, and the workers weave wool yarns while looking at the drawing over the warp threads. Even highly skilled workers can weave only 7 to 8 cm a day. Meanwhile, with the hand-embroidering method, a design is drawn directly on the backing cloth of the canvas, which is not provided with the hand-weaving method, and workers drive wool yarns into the canvas using a tool called hook gun. The time and cost of this method is approximately 1/4 to 1/5 of those of hand-weaving method. Adoption of this method has expanded our customer base.
New design with never—seen-before colors achieved by accumulation of techniques
Unfortunately, the demand for high-quality handmade carpets is decreasing steadily. However, we have been focusing on finding the meaning of tradition in the modern period in various ways. Our efforts include collaboration with "Yamagata Koubou" operated by Mr. Ken Okuyama, a famous industrial designer born in Yamagata Prefecture who designed the famous Ferrari machine, Ferrari Enzo. "Yamagata Koubou" carries out a project of commercializing the design by Mr. Okuyama using materials originated in Yamagata and based on traditional techniques.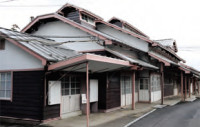 "The first design by Mr. Okuyama, an autumn leaves pattern with extremely vivid red and pink colors, was shocking to us. We did not expect such vivid colors to be used, and at the same time we were worried because it is very difficult to obtain vivid colors using faint beige wool."
However, the company is at its best when confronting difficulties.
"All the wool yarns to be used for our products are dyed within the company. In addition, study of dyes and dyeing methods along with the development of prototypes are also performed in our factory laboratory. To obtain the colors satisfying Mr. Okuyama's image, we did various attempts such as changing dyes to those having excellent color-producing performance and modifying treatment, and finally succeeded in producing the colors fitting Mr. Okuyama's image."
The master drawing, on which Mr. Handa has provided color schemes using Mac, is copied down to a full-scale canvas, and workers drive wool yarns into the canvas. Mr. Okuyama was satisfied with colorful "MOMIJI" (autumn leaves) created on a 4.5 mat size rug. He then provided us with design depicting part of natural scenery such as sea, ears of rice, Japanese cherry blossoms and waves. All of his ideas have been embodied in wonderful hand-embroidered rugs.
"Mr. Okuyama's selection of motifs and bold use of colors were new experience to us. We felt that we could accept concepts that do not stick to traditional patterns or "established methods." The most difficult part was to satisfy his persistency, which is represented in an episode that immediately before the start of manufacture, we received an e-mail from him, saying "let's make a shall change."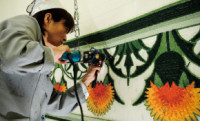 The company has also been developing new and unique techniques, which include "Shokuga" (weaved drawing), reproduction of famous drawings and calligraphy of all ages and cultures, and carving technique for stitching wool yarns long and then finishing the surface three-dimensionally. We tend to have an impression that "traditional crafts" must be protected. However, "traditional crafts" are results of continuous offense taken not to let them crumble away. The same can apply to this company that was born as a venture and has overcome a number of crises.
"We were not allowed to manufacture carpets during wartime because they were regarded as luxurious items. After the war, since it was difficult to obtain wool, they weaved carpets using fibers of kudzu, I heard. Surprised to see the wonderful workmanship, the General Headquarters, to which the product had been delivered, provided them with wool materials."
Despite their severe usage, trodden under people's feet, hand-woven carpets last for approximately 100 years, and even hand-embroidered ones for 50 years. Traditional crafts cannot survive unless they are tough, after all.
Ad Reference ID: N/A