Listed:

04/25/2014 12:49 am

Expires:

This ad has expired Japan will boost GPS accuracy to about 1-3 centimeters of error instead of up to 10 meters currently
Date: April 24, 2014
Source: Next Big Future – by brian wang
Mitsubishi Electric is ready to launch the first commercial, nationwide, centimeter-scale satellite positioning technology. The Quazi-Zenith Satellite System (QZSS), will augment Japan's use of the U.S.-operated Global Positioning System (GPS) satellite service. By precisely correcting GPS signal errors, QZSS can provide more accurate and reliable positioning, navigation, and timing services.
To correct the errors, a master control center compares the satellite's signals received by the reference stations with the distance between the stations and the satellite's predicted location. These corrected components are compressed from an overall 2-megabit-per-second data rate to 2 kilobits per second and transmitted to the satellite, which then broadcasts them to users' receivers.
In QZS-1 trial tests, the average accuracy is about 1.3 centimeters horizontally and 2.9 cm vertically.
To carry out highly precise satellite positioning, distances from the Geospatial Information Authority of Japan's GNSS-based control stations are calculated using data from these control stations. Information used to accurately search for one's current position (centimeter level augmentation information) is transmitted by QZS.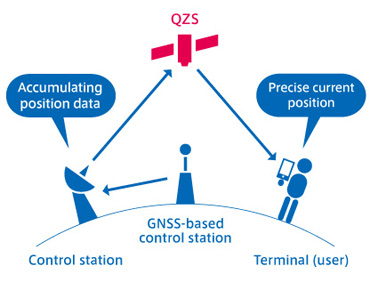 By utilizing surveying technologies, positioning can be accomplished with an error of several centimeters. However, if the longitude and latitude coordinate system that serves as the standard was a national datum built via surveying with old technologies, it is not always the case that this system will have a high degree of accuracy. And because this takes place via satellites, there is a time lag of approximately 10 seconds until the augmentation information is created and transmitted. The augmentation may be delayed, and positioning results may be negatively impacted, in cases such as sudden ionospheric disturbance.
Ad Reference ID: N/A