Listed:

05/26/2014 5:27 am

Expires:

This ad has expired
Japan: More firms entering vegetable factory business
Date: Apr 29, 2014
Source: Fresh Plaza
AIZUWAKAMATSU, Japan — An increasing number of companies are trying to reap profits in a more down-to-earth manner — setting up factories to grow vegetables in temperature- and humidity-controlled environments using sunlight and artificial light.

These factories provide business operators with a constant harvest since production is not affected by changes in weather conditions, and they can use idle land effectively.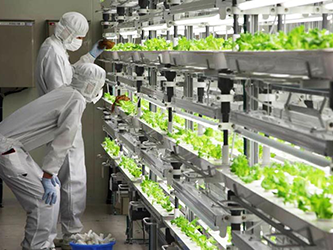 Fujitsu Ltd. converted part of its semiconductor factory in Aizuwakamatsu into a vegetable factory at a cost of about $4 million. The firm is growing lettuces in part of a room designed for manufacturing semiconductors.
As the lettuce contains much less potassium than ordinary lettuce, it can be eaten by people with chronic renal diseases whose diets preclude potassium. The company plans full-scale lettuce shipments early next month and will expand sales channels to include the city's hospitals and supermarkets.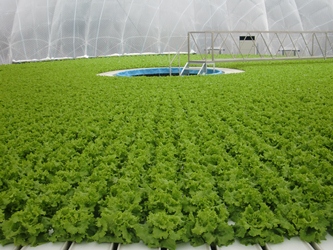 Oji Green Resources Co., a subsidiary of Oji Holdings Corp., a leading paper manufacturer, constructed six facilities for growing vegetables in Suzuka, Mie Prefecture, and started to sell lettuce and celery in February. The firm is utilizing its technique of growing seedlings that become raw material for pulp.
Mitsui & Co. plans to construct a factory for growing tomatoes with high sugar content in Yamanashi Prefecture in cooperation with an agricultural production corporation in Chuo, a city in the prefecture.
The company plans to sell the tomatoes to supermarkets across the nation, with the first shipment scheduled for summer 2015. In fiscal 2017, Mitsui plans to expand the vegetable factory, making it one of the largest in Japan.
According to the Agriculture, Forestry and Fisheries Ministry, vegetable factories are in operation in 198 locations across the nation as of March 2014, a 2.5-fold increase from three years ago.
The market size for vegetable factories is expected to reach 15.2 billion yen in fiscal 2018, an increase of nearly 100 percent from the 7.9 billion yen posted in fiscal 2012.
Another factor behind the increase in corporations entering the business is the central government's support for vegetable factory development since 2008.
An official at the Development Bank of Japan said the main challenge in the future will be securing sales outlets.
Ad Reference ID: N/A