Company Name:

Nitto Construction Inc.

State/Prefecture:

Hokkaido

City/Town/Village:

Monbetsu

Street:

1344-5 Oumucho,

Country:

Japan

Zip/Postal Code:

098-1702

Phone:

0158-84-2715

Website:

http://www.nittokensetsu.co.jp

Contact:

info@nittokensetsu.co.jp

Listed:

06/15/2014 9:10 pm

Expires:

This ad has expired
An incident in 1999 prompted President Hajime Kubo to consider the development of the CTS-02. When hearing news that a 200 kg block of concrete had fallen from a tunnel wall, Kubo wondered if Japan's concrete structures were beginning to reach their limits. He realized that there was a need for an accurate and portable concrete testing device. Understanding that such equipment already existed, but lacked the auccuracy necessary, Kobu called on Kunio Gokudan (then an assocaie professor researching non-destructive concrete-testing methods at the department of Civil Engineering in Tokai University). Together Kobu and Gokudan overcame many technical challenges, and in 2005 unveiled Nitto Construction's first Concrete Tester (CT). It was uniquely capable of simultaneously and automatically assessing the compressive strength of a concrete structure and the degree of deformation.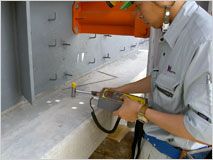 Concrete Strength Test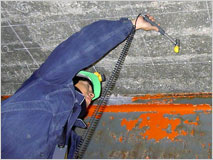 Strength of Slab Testing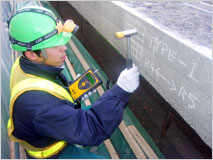 Road Surface Deterioration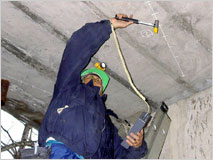 Strength Testing
CTS-02 Awards
Promoted in "New Hokkaido Products Trial"
Awarded for advancement of Construction Industry
Special Prize from the Ministry of Economy Trade and Industry (Japan)
Hokkaido, Japan "Good Design" 2005 bronze award
Selected for Hokkaido Good Design Competition

CTS-02 Hammer – Concrete Tester and Surveyor
The CTS-02 tests the strength of fresh or mature concrete with greater precision and speed than conventional rebound hammers. Requiring only seconds of set-up time and easy-to-calibrate, the CTS-02 records and analyzes data two times faster than a rebound hammer. Applying a gentle waveform of impact force at the point of hammer and concrete contact, the CTS-02 reads concrete with unprecedented precision, and even detects previously unreadable defects.

Applications
Construction Site Testing – inspecting fresh concrete to ensure it meets requirements
Periodic maintenance of concrete structures to monitor and prevent structural failure
Quality assurance testing of concrete structures to verify previous results
Civil engineering – state and municipal inspections and evaluations of concrete structures and compliance with regulations and building codes
Inspecting bridges and other concrete structures where core sampling is difficult
Determining the strength of an entire area of concrete (using Area Mode setting)
Inspecting defects in concrete products
Inspecting fire damage in concrete structures by measuring strength in different locations
Ad Reference ID: 346539e0a257a272