Listed:

01/15/2014 11:19 pm

Expires:

This ad has expired
Japan Inc, is your 'animal spirit' calling?
Date: Jan 15, 2014
Source: By: Dhara Ranasinghe – CNBC
Data showing a surge in Japanese machinery orders is a sign that Japan Inc. is finally moving into expansion mode, just what's needed to boost the country's long-term growth prospects, analysts say.


Core machinery orders, a volatile number seen as an indicator of capital spending by corporates in the months ahead, soared 9.3 percent in November from a month earlier, marking a second straight month of gains.
It was the fifth biggest increase on record and well above expectations for a 1.2 percent rise by economists polled by Reuters.
"The data tells you that Japan has its mojo back," Jesper Koll, managing director and head of Japanese equity research at JPMorgan Securities, Japan told CNBC Asia's "Squawk Box." "It tells you that corporate Japan's animal spirits are alive and firms are investing in the future."
Economists say corporates investing more and raising wages are crucial to the success of Japanese Prime Minister Shinzo Abe's plans to revive an economy that has spent much of the past 20 years mired in deflation and slipping in and out of recession.
Against that backdrop, companies have been slow to ramp up spending.
"The corporate sector needs to be reengaged in the economy," Sean Darby, chief global equity strategist at Jeffries, told CNBC on Wednesday.
"It has $2 trillion sitting on its balance sheet and it needs to be spending money on new investment, which we're starting to see in new machinery orders and it needs to start raising wages and passing on some of the productivity gains," he added.
Wage hike please
Analysts note some positive developments for Abe's economic plans, known as Abenomics, in terms of corporates' plans for wage hikes.
Frederic Neumann, co-head of Asian economic research at HSBC, said base wages in Japan have stopped falling for the first time since May 2012.
"The steady economic recovery has helped push up overtime pay in November, boosting nominal wages," he said in a note on Thursday.
The Keidanren, Japan's influential business lobby, has agreed to raise the base pay for workers for the first time in six years amid a recovery in the economy and improvement in corporate earnings, media reported at the end of last year.
Earlier this week the Keidanren said it would appoint industrial products firm Toray Industries Chairman Sadayuki Sakakibara as its next head.
"The business community and the government should cooperate as two wheels (of the same axle)" under the "Abenomics" policy mix of Prime Minister Shinzo Abe," Sakakibara was quoted saying by the Japanese press this week.
Koll at JPMorgan Securities said he expected the base rate for wages to rise 2-2.5 percent over the next 12 months.
"In addition, don't lose track of the fact that Japan is an enormous job creation machine. Non-farm payrolls are growing very rapidly, they're up almost 3 percent from a year ago. So there's more Mr and Mrs Watanabes getting those wage gains," he said.
---
Orders Received for Machinery in November, 2013
Source: Cabinet Office, Government Of Japan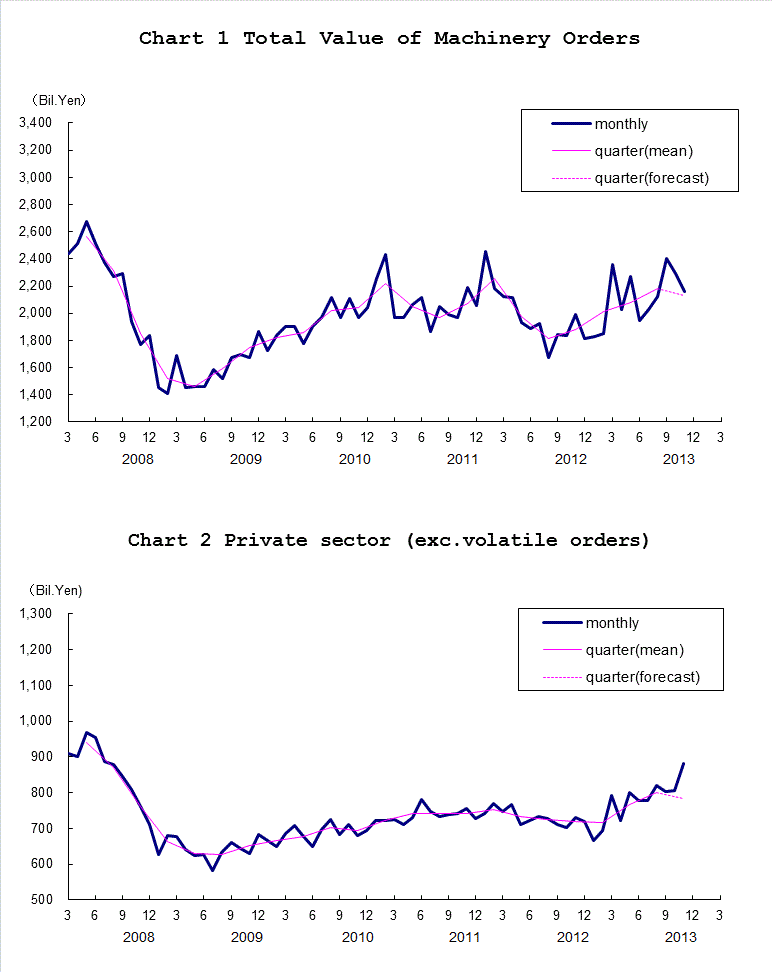 Ad Reference ID: N/A