Company Name:

Maruwa Co., Ltd.

State/Prefecture:

Kyoto

City/Town/Village:

Kyoto

Street:

18-3 Mibukayougosyocho, Nakagyo

Country:

Japan

Zip/Postal Code:

604-8811

Phone:

+81-75-801-0536

Listed:

03/08/2014 2:43 am

Expires:

This ad has expired
Maruwa has been a wholesaler specialized in Furoshiki with our motto "Furoshiki is a tool for wrapping your hearts". Originally Furoshiki is used for wrapping things, and Japanese extend their hearts (gratitude) into wrapping Furoshiki. This is a Japanese unique culture in the world. We use Furoshiki because of human relationship. I recommend you to use Furoshiki not only for carrying on the tradition but also showing your heart to the others.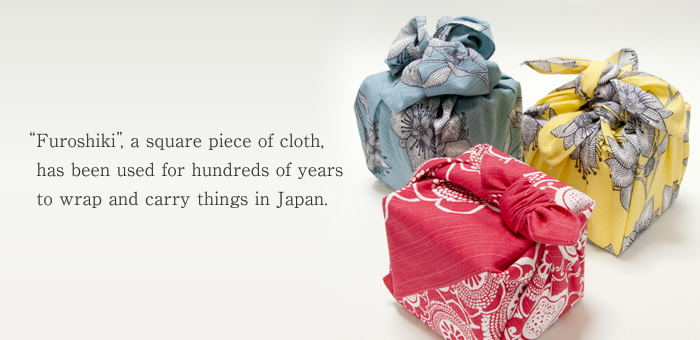 About Furoshiki
It shows Japanese minimalism and functionalism in the piece of fabric that allows to wrap anything, from round sake bottles to square boxes, and when not in use, to be folded and stored compactly away. Its uses are only limited by your imagination! Now Furoshiki is used for fashion, interior decoration, grocery bag, gift wrapping etc. Recently in Japan, it is getting popular to use Furoshiki as an eco-friendly product. Especailly we recommend to use it for gift wrapping instead of wrapping paper, grocery bag instead of plastic bag.
The character "包" is used in wrapping something with furoshiki, but the letter originally symbolizes a pregnant woman. In the same way a pregnant mother cares for her baby, so furoshiki implies a care given to the object wrapped inside.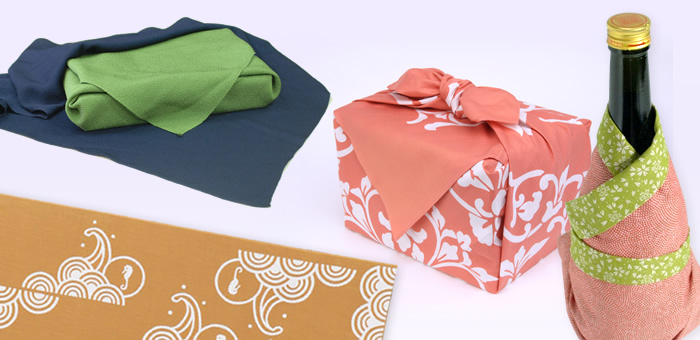 History of Furoshiki
At Nara period(AD 710-794), some temples had steam saunas and people had sat on furoshiki. At Muromachi period (AD 1333-1568), the nobles used furoshiki with their family crests to distinguish from others when they go to public spa. At Edo period(AD 1603-1867), public sauna was getting popular among people with furoshiki. And they started to use furoshiki in some special occasion like picnic, hiking etc. After Edo period, the most popular furoshiki was made of cotton and hand printed. After Meiji period(AD 1868-1912), it was necessary to use for any ceremonial occasion like wedding. And people have used it as a bag for business, school in their daily lives. After World War Two, many types of furoshiki has been produced by the developed printing technique and artificial fiber with mass-production. Because of it, many organization started to make their novelty furoshiki with their logo.
Today furoshiki is used as a eco-friendly product instead of plastic bag. In the 2011 earthquake of the Pacific coast of Tohoku, they were provided furohshiki and used for wrapping their belongings.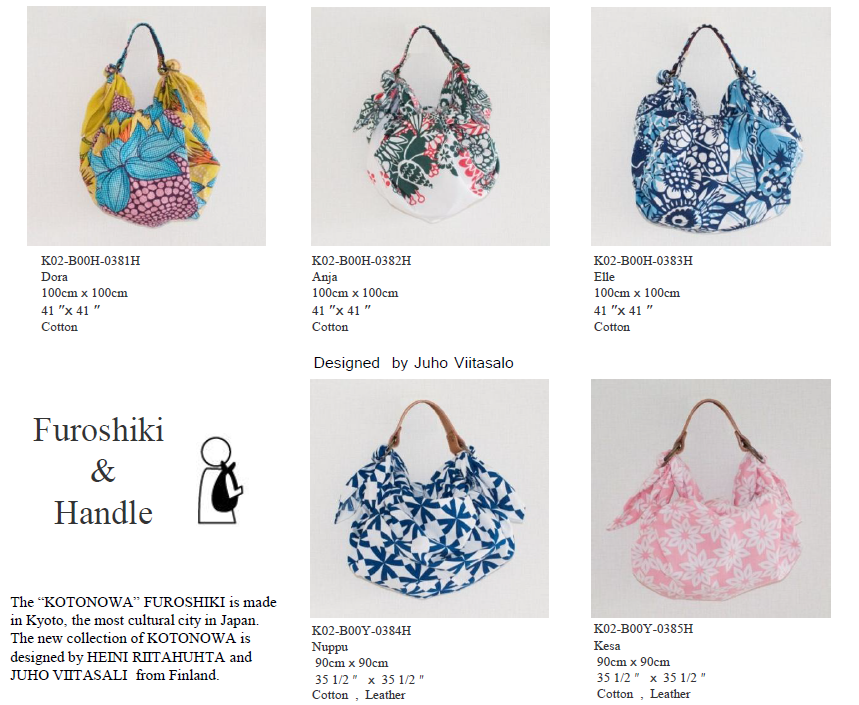 Products:
Kotonowa is a brand by MARUWA Co., Ltd. established in 1949. Since then we have introduced Furoshiki and it's culture.
We have transmitted Japanese philosophy, culture, words to the next generation through Furoshiki.
Please check the list »
Ad Reference ID: 972531af437919a9