Listed:

06/10/2014 9:49 am

Expires:

This ad has expired
Next Mazda2 will Feature New SKYACTIV-D 1.5 Small-Displacement Clean Diesel Engine
Date: Jun 10, 2014
Source: Mazda Motor Corporation
– Diesel-powered subcompact meeting Japan's Post New Long-Term Regulations to be introduced in Japan –
HIROSHIMA, Japan — Mazda Motor Corporation has announced that the upcoming all-new Mazda2 (known as Demio in Japan) will feature the SKYACTIV-D 1.5, a newly developed 1.5-liter clean diesel engine making use of the company's next-generation SKYACTIV technology.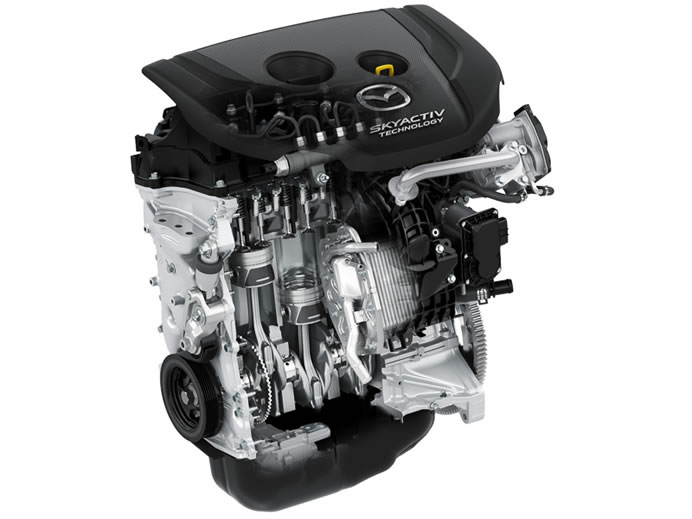 SKYACTIV-D 1.5 clean diesel engine
Similarly to the next generation SKYACTIV-D 2.2 clean diesel engine available in models such as the Mazda CX-5, the SKYACTIV-D 1.5 was developed in the pursuit of ideal combustion despite a very low compression ratio. As a result, the engine boasts outstanding dynamic performance, including torque equal to a 2.5-liter gasoline engine and linear acceleration all the way up the RPM range. It also features excellent environmental performance without resorting to expensive NOx aftertreatment systems.
Inheriting numerous innovative technologies from the SKYACTIV-D 2.2, additional advances were made to the SKYACTIV-D 1.5 to further enhance the engine and make it suitable for subcompact vehicles. Additional technologies include an expanded homogenous lean burn range, further reduction in mechanical resistance, and insulation technology to curb the increase in cooling loss associated with a smaller engine size.
The all-new Mazda2 featuring the SKYACTIV-D 1.5 clean diesel engine will be introduced to the Japanese market where it will meet Japan's Post New Long-term Emissions Regulations*1 as a diesel-powered compact car. Combined with Mazda's i-stop idling stop technology, i-ELOOP brake energy regeneration system, and high-efficiency SKYACTIV-DRIVE automatic transmission or SKYACTIV-MT manual transmission, the SKYACTIV-D 1.5 will ensure the all-new Mazda2 achieve among the highest level test mode*2 fuel economy figures for a vehicle powered solely by combustion engine in registered vehicles excluding hybrid and micro-mini vehicles in Japan, as well as drastically improved practical fuel economy. It is another example of how Mazda is implementing its long-term vision for technology development, Sustainable Zoom-Zoom, which promises to deliver all Mazda customers both driving pleasure and outstanding environmental and safety performance.
*1 Based on Mazda in-house measurements
*2 Under Japan's JC08 test mode cycle
Ad Reference ID: N/A