Company Name:

TRIPLE-1, Inc.

State/Prefecture:

Fukuoka Prefecture

City/Town/Village:

Hakata-ku, Fukuoka-shi

Street:

1-14-20 Hakataeki-Higashi

Country:

Japan

Zip/Postal Code:

812-0013

Website:

http://triple-1.com/en/

Contact:

info@triple-1.com

Listed:

09/12/2018 10:18 pm

Expires:

This ad has expired
TRIPLE-1 was established as the one and only blockchain system development company in Japan. Using the proven semiconductor technology as a base, we have tied up with the excellent partner company and have been conducting the world top-level high quality mining system development made in Japan. We have been positively working in order to play a role in the future blockchain which everyone can use with security, having the Japanese craftsmanship as an asset.
Business
Development: The development technology of the world top-level, ASIC mining chip
We have been offering the world top-level high-performance as well as a high trusting mining system, combining the proven mining chip (ASIC) manufacturing technology and the system development technology and have been aiming to create a world innovation.
Mining: Mining apparatus tuning technology
We have been offering a tuning technology of the high level mining machine with the excellent stability and power efficiency. Of course, it will homologize the latest multi-coin / multi-pool environment.
Facility: The mining environment
We have been forwarding the high added value service, making the best possible use of abundant management know-how of the mining. We have been challenging the innovation in the mining environment withdomestic/overseas companies in the world.
Featured Product
TRIPLE-1, Inc. has been proceeding with the development of the mining machine, "KAMIKAZE" equipped with the world's most advanced 7nm ASIC chip since February 2017. On the 13th September 2018 when about 1 and a half years have passed since the start on the development, we have finally reached to the stage of the official announcement of the result of the performance evaluation test. We are anticipating that the first mass production styled mining machine shipping will start from the end of November 2018. Due to the result of the "KAMIKAZE" performance evaluation test, the ongoing development in parallel has become more realistic.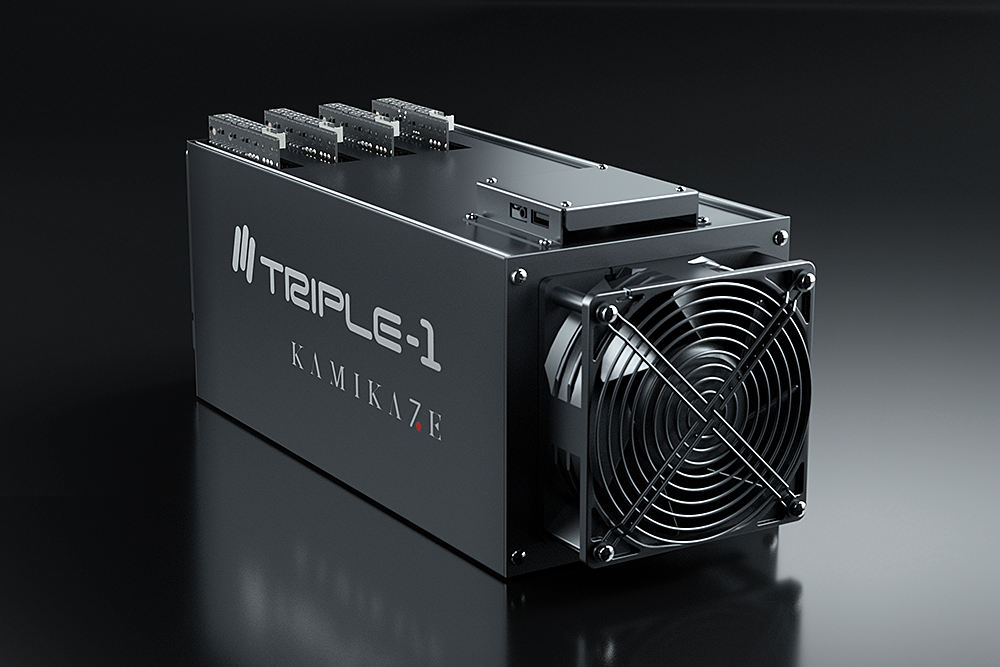 KAMIKAZE
The numerical performance evaluation of the mining machine, "KAMIKAZE" equipped with the 7nm ASIC chip will be publicized.
KAMIKAZE
Performance: Energy saving performance
Hashrate : 14.5 TH / s ± 5% (* at the normal state)
Power Consumption : 750 W ± 5%
Power Efficiency : 0.052 W / GH ± 5%
Ad Reference ID: 7235b99f2c8c9ea4