Company Name:

Watanabe Engineering Corporation

State/Prefecture:

Fukuoka

City/Town/Village:

Fukuoka

Street:

1-2-1, Aioimachi, Hakata-ku

Country:

Japan

Zip/Postal Code:

812-0885

Website:

http://www.watanabe1886.com/en/

Listed:

11/11/2013 5:20 pm

Expires:

This ad has expired
Over 80% of Japan Market Share in Automobile Rim Line
Since 1886, we have developed with the technology strength and the corporate philosophy. We are developing five business fields now. We also start new businesses with our main technology. Now prospects of society are gloomy, so we will help customers to develop businesses with a sense of security. So, we will try to pursue higher technology and better suggestion for customers according to changes in their circumstances individually.
SME(Small and Medium-sized Enterprise) 300 Award Winner
Thanks to you, we are selected "one of the three hundred small and medium enterprises which will carry the future of Japanese society". We continue to keep up with customers' needs as a company which consistently supplys products from design to production.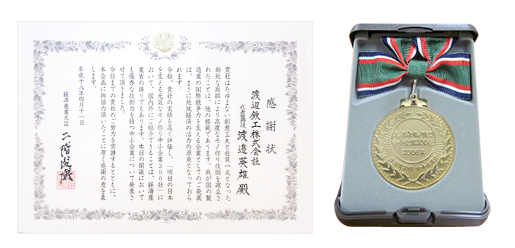 Business Line
Manufacture(Design and install) steel sheet making equipment
Manufacture(Design and install) wheel making equipment
Manufacture(Design and install) industrial machinery
Manufacture(Design) torpedo tube of escort ship
Construction Machinery Sales and Service
Products
Steel Plate Processing Equipment (Slitter Line)


To build a good slitter line, it is necessary to have an original design according to various criteria.
For example, characteristic and shape of the material, the size of plant and personnel, and appropriate driving speed.
Therefore, our company discuss in detail of our customers' needs and detail prior to the design specification. Made to order by a consistent system from design to manufacturing, we deliver to our customers the best line.
In the field of IC frame and mold which precision is demanded, we are good at micron technology accuracy by its own control. We also have been very reliable by clearing the high-standard terms of usability efficiency and cost performance.
"I want to launch a slitter line of products with such characteristics""Is it possible to make the capacity of the line higher? " Such a variety request offer comes to our company.
As we specialized in designing custom-made line, because of the comprehensive strength born from the abundant know-how and technical strength developed over many years.
Identify problems, analysis and consider addition from the broad view, demonstrate all the available technology we keep the attitude to pursue through the user benefits. Not only satisfy the demands, we also have an ability to suggest own proposal. We will continue to support the creation of production systems rely on technology as a truly brains, directly related to management efficiency.

Production Equipment for Automobile Wheel (Rim Line)


Recently, automotive industry accounts for approximately 10% of the gross national product as one of the key industries. Responsible for the production of (wheel rim) portion of its wheels, from cutting of coil material to coiling, welding, trimming, forming, assembly, inspection accuracy, rim line consistently automatically produce the whole process.

It was 1967 when Watanabe Iron Works entered the field of manufacturing plant it was the midst of the primary motorization when automobile manufacturers Factory Automating had advanced rapidly. Since then, as our country's greatest rim line manufacture through dealings with the Japanese automobile wheel manufacturer preeminent in the world we accumulate high technical know-how.
Almost exclusively share the domestic market exports to USA, Korea, Taiwan, and Indonesia we appeal the excellence. We have a large share in the international market.
The rim line design is also custom-made as well as slitter line. When create the needs we always have a trust relationship based on partnership with our customers.
Asian market has been attracting attention in the future. China, India and Southeast Asian countries potential, entry into some countries undergoing rapid economic development has been expected. Accordingly, employees will have many opportunities to have an overseas business trip our company will be important aspects as well as international companies.

Industrial Machinery


By applying the technology we have developed we want to take advantage of the new industry. Delivered of labor saving automatic machine to housing and food manufacturers, to ironworks we have developed a device to the suppliers with high added value. In recent years, the ancillary equipment for ironworks delivery increased. We have established a new business as a pillar of Watanabe Ironworks. By considering the usability and safety, combining the technology of our company we will provide satisfactory facilities to our new customers.

General Purpose Machine Service Sector


We have started the business of construction machinery sales and service of IHI Corporation since 1963. Handling a wide range of products recently, we cover most part of the construction-related products including other brand s products. We expand the overall business activities, sale machines, supply parts, maintenance and repair for entire area of Kyushu furthermore Chugoku Shikoku area. Place the branch in Kagoshima to enable rapid service systems in southern Kyushu district. Unlike the other sector which engineering of industrial machinery mainly, our division is more like a trading company. In business services, to deal quickly to mechanical failure as well, we also focus on periodic inspection and maintenance to keep the product is always at their best.
Ad Reference ID: 82528182790627f