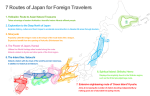 7 routes to be promoted to foreign tourists
Date: June 12, 2015
Source: The Japan Times
For the first time, the Tourism Agency on Friday selected seven regional sightseeing routes within the nation for foreign tourists. The agency aims to encourage foreign tourists — who primarily tend to visit the Tokyo metropolitan area, an area surrounding Mt. Fuji and the Kansai area — to visit attractive sightseeing spots in regional areas linked to specific themes.
Land, Infrastructure, Transport and Tourism Minister Akihiro Ota authorized the seven routes on Friday morning.
Among the seven routes, for example, "Exploration to the Deep North of Japan" introduces Lake Towada on the border of Aomori and Akita prefectures, as well as the natural beauty and regional food culture of the Zao area in Yamagata Prefecture, the Aizu area in Fukushima Prefecture and other places. The tour is designed for individual travelers from places such as Taiwan and Hong Kong who have visited Japan many times.
The route called "Extensive Sightseeing Route of 'Onsen Island' Kyushu" highlights the Aso area in Kumamoto Prefecture, as well as Nagasaki and Kagoshima prefectures, setting hot springs as its theme because the area is blessed with the largest number of natural hot springs in the nation.
Utilizing the Tokaido and Hokuriku Shinkansen lines, the route "Shoryudo" in the Chubu region visits Kanazawa, Shirakawago in Gifu Prefecture and Ise, Mie Prefecture.
With this authorization, local governments across the nation are preparing to print up pamphlets in foreign languages, set up free public Wi-Fi networks and promote special excursion tickets.
The ministry allocated about ¥300 million for this plan in the fiscal 2015 budget, saying it will shoulder half of what local governments spend on preparations.
The Japan National Tourism Organization will promote the seven regional sightseeing routes to foreign visitors to Japan, while private travel agencies will likely sell travel products based on the authorized sightseeing routes.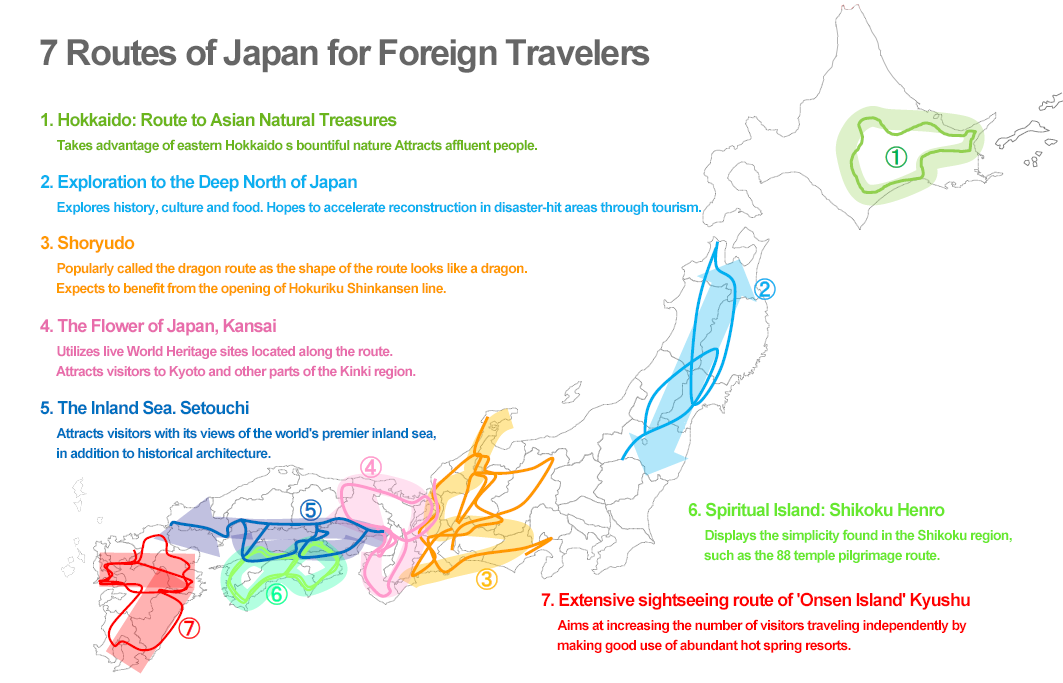 Regional sightseeing routes designated by Land, Infrastructure, Transport an Japan Tourism Ministry