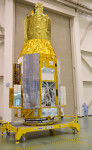 JAXA launches X-ray astronomy satellite "Hitomi" (ASTRO-H)
NEC conducts manufacturing and testing as the system coordinator
Date: Feb 17, 2016
Source: NEC Corporation
Tokyo, Japan – February 17, 2016 – The X-ray Astronomy Satellite "Hitomi" (ASTRO-H) was launched today from the Japan Aerospace Exploration Agency's (JAXA) Tanegashima Space Center atop the H-IIA Launch Vehicle No. 30. Hitomi has successfully entered the intended orbit and deployed its solar array paddle as scheduled.
Continue reading »