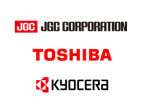 JGC Launches Operations Business for Mega-Solar Power Plant in Kamogawa, Chiba
Date: Mar 19, 2015
Source: JGC Corporation
JGC Corporation has completed a mega-solar power plant in Kamogawa, Chiba, which began commercial power generation on January 6th of this year. Today (March 19th), a ceremony was held at the site to celebrate the completion and pray for safe operation of the plant. The ceremony was attended by Kamogawa Mayor Takao Hasegawa, Deputy Mayor Masao Shoji, City Council President Toshinori Tatsuno, and JGC President Koichi Kawana, among other guests.
Continue reading »