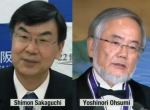 Japanese researchers win Gairdner Intl. Award
Date: Mar 25, 2015
Source: NHK World
Two Japanese researchers have won a prestigious international medical award for their work on cellular functions.
The Canadian Gairdner Foundation gives the award each year to scientists for discoveries or contributions to medical science. It announced the winners of the 2015 Gairdner International Award on Wednesday.
Continue reading »