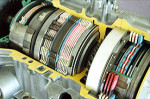 The Minister of Economy, Trade and Industry Prize: Dynax Corporation
Source: The Japan Machinery Federation
New Clutch Discs with Durability and Anti-friction Characteristics for Automatic Transmission Vehicles
A clutch disc used in the transmission system (automatic transmission) of automatic (AT) vehicles has an iron ring structure provided with a friction material attached to its surface. In the past, asbestos, which causes serious health problems, was used as a friction material. Dynax Corporation took up the challenge of producing "asbestos-free" materials.
In 1983, they succeeded in developing Japan's first paper friction material through a process of combining natural and synthetic fibers, blended with a friction adjustment agent, which was impregnated with phenol resin for hardening. This development not only solved an environmental issue but also produced a product that far surpasses conventional materials in terms of various specifications such as durability, thus significantly contributing to the "advancement" of AT vehicles.

Continue reading »