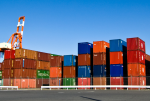 Japan's Exports Rise Most in 8 Months in Recovery Sign
Date: Nov 19, 2014
Source: Nikkei
TOKYO — Japanese exports are increasing as the impact of the falling yen finally starts to emerge via lower prices for goods sold overseas.
The Cabinet Office said Thursday that the seasonally adjusted export volume index for October came to 92.7, up 2.2% from September and the second straight month of gains. The index hit its highest level since June 2012. The benchmark of 100 is set at 2010 levels.
Continue reading »