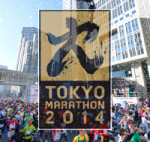 Tokyo Marathon 2014
Date: Feb 23(Sun), 2014
Official Site: www.tokyo42195.org/2014en/
About Tokyo Marathon
Around 36,000 runners run through the busy streets that are shut down to traffic, of Metropolitan Tokyo. At first to hold a Tokyo Marathon seemed like an unrealizable dream. But it became a reality in 2007 and as years pass, this city marathon became a race filled with many dreams.
Continue reading »