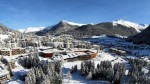 Abe to attend Davos economic forum
Date: Jan 10 2014
Source: NHK WORLD
Japan's Prime Minister Shinzo Abe plans to attend this year's meeting of the World Economic Forum in Davos, Switzerland.
Chief Cabinet Secretary Yoshihide Suga said on Friday that Abe will deliver a keynote address at the event's opening session on January 22nd. No Japanese prime minister has ever made such a speech at the forum.

Continue reading »