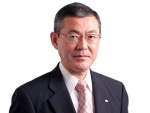 Fuji Heavy Industries, Ltd.
President Yasuyuki Yoshinaga
Source: Japan International Broadcasting Inc.
Fuji Heavy Industries, known for its Subaru line of cars, approaches the production of autos without preconceptions. Its global market share may be only one percent, but many of its customers are so enthusiastic that they're called "Subarists." Recently, the brand's popularity has been increasing, especially in the United States. Sales continued to rise even after the global financial crisis of 2008. The company is expecting record high sales and profits in the fiscal year ending March 31, 2013.

Continue reading »