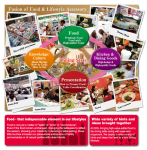 16th Gourmet & Dining Style Show Autumn 2014
Dates: Sep 3(Wed)-5(Fri), 2014
Venue: Tokyo Big Sight, East Hall 3
Organizer: Business Guide-Sha, Inc.
Show Scale: 150 exhibitors with 30,000 visitors
Admission Fee: Free of Charge (admission is by invitation)
Official Website: www.gourmetdiningstyleshow.com

About Gourmet & Dining Style Show
The GDS Creates new food lifestyles and markets
The creation of the new market is the basic concept of the Gourmet & Dining Style Show (GDS), which chiefly aims at the new business development by leaping the boundaries between the existing business categories. With this concept, the GDS brings together food-related knowledge and systems, premium foods of high product quality with high added value, quality kitchen / dining items of excellent design, and promotes approaches to a variety of goods categories and business models. Needless to say, the show is an ideal platform for deploying a variety of novel meal solutions like sales-point suggestions, new meal / menu development, table coordination and new way-of-selling suggestions.
Encounters with new buyers other than the conventional food industry
The GDS is a cross business-sector trade fair where both Japanese and overseas buyers dealing with food and dining lifestyle goods (please refer to "targeted Show Visitors" ) visit from a wide variety of industries and businesses, so the show is not only for meeting the established buyers from your existing sales distribution routes, but also new type of buyers to develop new business models, which cannot be accomplished at the conventional food trade fairs. In addition, collaboration and business matching with the buyers who visit the concurrent trade show, 78th Tokyo International Gift Show Autumn 2014, Japan's largest trade fair for giftware (No. of Visitors:196,378 at the 77th TIGS Spring 2014), can be made during the show period. It's a golden opportunity to present the new food materials to lifestyle shops, Interior /Zakka shops, not to mention the food industry.
Concept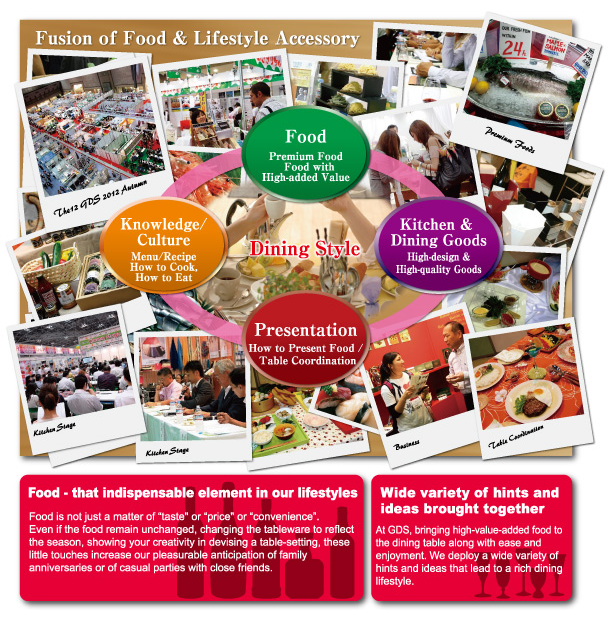 Exhibit Category
Food Product


Agricultural Produce, Marine Produce, Live Stock Produce, Processed Foods, Cakes, Wine and Beverages, Frozen Foods, Delicatessen, Bakery, Desserts, etc.

Zakka


Kitchen Appliances, Kitchen Utensils, Cookware, Tableware (Ceramic, Lacquer Ware, Metallic, etc.), Cutlery, Chopsticks, Wrapping Materials, etc.

Other


Kitchen Equipment, Shop Fittings and Fixtures, Display Signs, Sales Promotion Support Tools, Food Service and Consultancies, Restaurants, Cooking Schools, Publication related to Food Market, etc.
Companies Targeted as Exhibitors
The GDS is a trade show, with business negotiation being focused on B2B deals with big box retailers and services industries, not to mention small-and-medium businesses.
Food product manufacturers and wholesalers


Foods in general : agricultural produce, aquatic produce, livestock produce, processed foods, cakes, wines and beverages frozen foods, bakery desserts, etc.

Sundries manufacturers and wholesalers


Kitchen electrical appliances, kitchen appliances, cooking implements and appliances, tableware(ceramic, lacquer ware,metallic etc.),Cutlery, tablecloths, place-mats, containers and wrapping materials.

Other kinds of manufacturer and wholesaler


Kitchen equipment, shop fittings and fixtures, display signs, sales promotion support tools, and management retail-shop support software, etc.

Food services, food and dining consultancies, etc.


Franchisers (restaurant, canteen, bar, pub, cafe, teahouse, fast food' etc.), food consulting, cooking schools, etc.
Event & Contest
Food with Traceability Info Corner


The corner focuses mainly on agricultural/livestock products and processed foods, reflecting on consumers'persistent needs for health, safety, and security, with producers' commitment to high awareness on food requirements.

Japan's National Excellent Sake Corner


A platform for Sake (Japanese rice wine) and local. Sake breweries to launch new products with the proposals of new Stylish Sake.

14th National Evaluation Meeting for Excellent Sake


Over 100 excellent Sake across Japan are brought here in recognition of excellent Sake.

New Product Contest


The Contest is divided into 3 divisions:
1.Food 2.Beverage 3.Kitchen Utensils & Tableware
It's this contest where many products destined to be the next bit hits are gathered together and visitors can vote for the products they like in each of the divisions.

Kitchen & Dining Event Corner


This is the corner, closely linked with the Kitchen & Dining Goods Contest, proposes the living scene focused on "food". The party scene themed on "Omotenashi Dining" is featured.