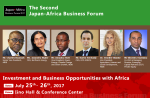 The Second Japan-Africa Business Forum
Date: July 25-26, 2017
Source: African Development Bank Group
The Japan-Africa Business Forum, co-organized by the External Representation Office for Asia of the African Development Bank (AfDB) and the African Diplomatic Corps (ADC) in Tokyo, is the only sizable business event in Japan that focuses on Africa. High-level public officials and business leaders from both Japan and Africa will gather to discuss the investment and business opportunities in Africa. There will also be great opportunities to meet with potential business partners.
The First Japan-Africa Business Forum was held in July 2014, one year after the Fifth Tokyo International Conference on African Development (TICAD V), with the goal of contributing to the further enhancement of business partnerships between Japan and Africa. The Forum provided networking and learning opportunities for more than 1,200 participants including approx. 100 attendees from the private and public sectors in Africa.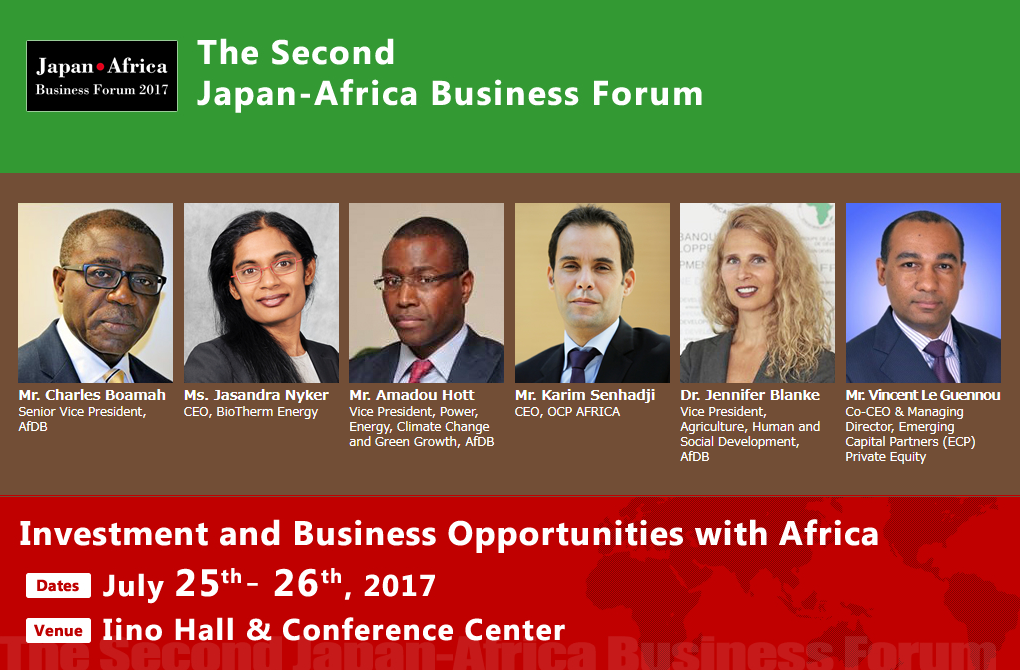 TICAD VI was held in 2016 in Nairobi amid great expectations of accelerating the "promotion of private sector-led economic growth" and maintaining the high level of interest within the Japanese business community. Therefore, it is now appropriate timing to hold the Second Forum as a way to heighten this momentum. The forum sessions will be aligned with the AfDB's High 5s*, strategic priorities, which will unlock potential growth in Africa.
The Second Japan-Africa Business Forum will offer a greatly increased number of business matching opportunities. Also, participants from Africa will be able to participate in site visits to see the actual business environments in Japan.
*High 5s: five priority actions for the AfDB and for Africa to bring about the social and economic transformation of Africa; Light Up and Power Africa, Feed Africa, Industrialize Africa, Integrate Africa, and Improve the Quality of Life for the People of Africa