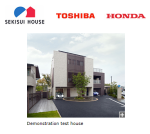 Sekisui House, Toshiba and Honda Embody 2020 Lifestyle of the Future with Real-World Smart House
Date: May 21, 2014
Source: Honda Motor Co., Ltd.
– Three Companies Conduct Joint Demonstration Testing Toward Practical Applications of Their Smart Community Technologies –

TOKYO, Japan, May 21, 2014 – Sekisui House, Ltd., Toshiba Corporation and Honda Motor Co., Ltd. have jointly built a new demonstration test house in Saitama City, Japan, and have begun verification of the advanced lifestyle with their information technologies, personal mobility and energy management technologies designed to realize comprehensive control over supply and demand of energy for houses, mobility products and community.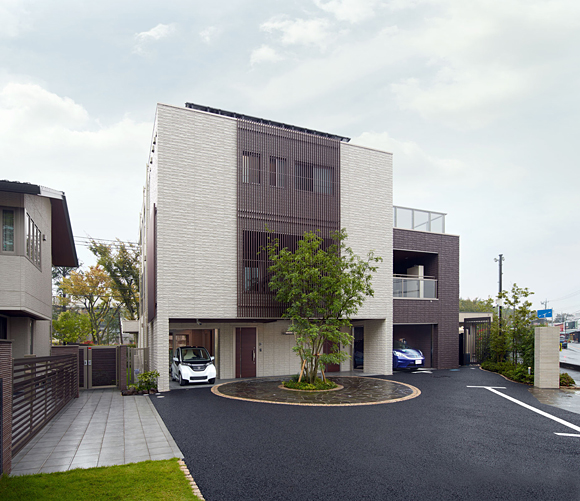 Demonstration test house
The new demonstration test house is a fully livable two-family house designed to further advance technologies in real world that will support future life by testing new technological challenges such as the mutual supply of electricity and hot water generated in the two households, non-contact recharging of an electric vehicle, electric supply from the vehicles to the home and community, and the creation of the residential space that enhances the usability of personal mobility products. For example, surplus electricity by photovoltaic generation in one of the two households can be used in another household.
Striving to realize a future where people can enjoy a safer, more comfortable, more convenient and more fun lifestyle, the three companies have been proactive players in the area of promoting the realization of a smart community.
Under a brand vision of "SLOW & SMART," Sekisui House has been promoting various initiatives to utilize advanced technologies for a comfortable and enjoyable lifestyle. While envisioning popularization of "net zero-energy" houses in 2020, Sekisui House has been offering a smart house, under the brand name of "Green First Zero," which is equipped with various energy creation and saving technologies optimally controlled by HEMS (home energy management system).
In order to accomplish a stable energy supply and creation of comfortable and efficient living space, Toshiba has been offering solutions that combine energy devices, smart home appliances and cloud services. Such solutions have been provided in a broad range of forms from household appliances for a household to the "demand-response*1*1" demonstration for a community which connect houses and the community.
Striving to realize "the joy and freedom of mobility" and "a sustainable society where people can enjoy life," Honda built two demonstration test houses in Saitama City in April 2012 and Honda Smart Home US in California earlier this year, and has been verifying the effectiveness of its energy management technologies which enable in-house energy production and consumption. Honda also has been studying the ideal future of personal mobility.
Moreover, in November 2013, the three companies jointly exhibited at the SMART MOBILITY CITY 2013, an organizer-themed project held within the venue of the 43rd Tokyo Motor Show. Through this exhibit, the three companies collaborated beyond the boundaries of industries and proposed a future lifestyle where houses, electric appliances and automobiles are linked to one another.
This time, the three companies envisioned an enjoyable lifestyle that is sustainable throughout the course of a person's lifetime, as well as a 2020 lifestyle of the future where houses and mobility products emit zero CO2, and such lifestyles were embodied in the newly-built fully livable two-family demonstration test house. Utilizing this new test house, the three companies will conduct various verification tests with the aim to establish technologies that realize a futuristic lifestyle and to put such technologies into practical use.
*1The "demand response" is a method of balancing electricity supply and demand by changing demand on the user side.
---
Outline of the demonstration testing
"SLOW & SMART" lifestyle for the future


The new demonstration test house is equipped with various technologies and designs to support a safe and comfortable lifestyle, including a space design which accommodates automobiles inside the house, an indoor layout that accommodates utilization of robotics, a completely flat floor for the entire house including the exterior deck, and automatic control for the opening and closing of windows, doors and blinds. The demonstration testing will verify the compatibility of a house and mobility products as well as the house design which allow residents to live safely and comfortably through the course of a lifetime.

Interchange of electricity and heat between households using the μCEMS*2


The μCEMS optimizes control of the supply and demand of energy not only for each house but for a community. Using the newly-built demonstration test house, which is a two-family house, the test will verify the energy saving effect of the interchange of electricity and heat between two households and utilization of "demand response."
*2Micro Community Energy Management System

Advanced V2H (Vehicle to Home)


The new demonstration test house is equipped with a V2H system that is interconnected to commercial power grids and is capable of supplying the vehicle's electricity not only for in-house use but also for use within the community. The testing will verify the value of electric mobility products not only as an emergency power source for a single house but also as a power source that a community can utilize to shift and/or cut peak power demand on a daily basis.

Non-contact recharging and autonomous parking


The new demonstration test house is also equipped with a system that autonomously drives Fit EV parked within the property of the house and precisely parks it in the garage that is equipped with a non-contact recharging device. The testing will verify the convenience and issues of using those technologies in the house.

Other key features and technologies

Wall greening (Sekisui House)
Smart Meter (Toshiba)
eneGoon, PV interconnection lithium-ion battery (Toshiba)
Smart electric appliance, HEMS FEMINITY (Toshiba)
84-inch 4K television (Toshiba)
Honda Smart Home System (Honda)
V2H system featuring Honda MC-β micro-sized EV (Honda)
HEMS control with voice recognition technologies (Honda)
Honda Robotics (Honda)

Sekisui House supports the safety and comfort of people's lives by employing advanced household-related technologies from the construction stage. Toshiba pursues the realization of a smart community through the stable supply of energy and creation of comfortable and efficient living space. Honda continues to provide people with the joy of mobility with its next-generation mobility products. Together, these three companies will collaborate beyond the boundaries of industries and propose a future lifestyle that is safer, more secure, more comfortable, more convenient and more fun.
---
Comment by Toshinori Abe, President & COO, Sekisui House, Ltd.
"This new smart house will provide us with a single location to conduct demonstration testing that employs a number of advanced information and mobility technologies. We will conduct real-world testing which will verify how these advanced technologies support and realize a comfortable and enjoyable life for people, how we can utilize such technologies in connection between residents and their community, and how well our technologies can accommodate the needs of people and the community. I have a great hope that our testing will bring our technologies one more step closer to practical use."
Comment by Hisao Tanaka, Director, President & CEO, Toshiba Corporation
"We are ready to begin demonstration testing that combines the technologies of the three companies in the area of mobility, housing, consumer electronics and energy devices. In the coming years, we will take it to a deeper level and create new added value by fusing together our technologies. With such new values, we would like to propose a smart society where people can enjoy life."
Comment by Takanobu Ito, President & CEO, Honda Motor Co., Ltd.
"I believe that this three-company collaboration beyond the boundaries of industries will enable us to generate freewheeling ideas that are outside the box and create new value. Though our verification in a real-world environment, just like this new house, we will identify needs for the lifestyle of the future, which we could never see from behind a desk, and we will strive to create fun and dream-inspiring mobility and living spaces. "
---
Tokyo Motor Show 2013 – Smart Mobility City 2013 "Smart House" Demo by Sekisui House, Toshiba and Honda