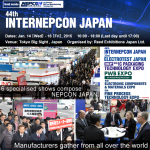 44th INTERNEPCON JAPAN
Date: Jan 14(Wed)-16(Fri), 2015
Time: 10:00 – 18:00 (Last day until 17:00)
Organizer: Reed Exhibitions Japan Ltd.
Venue: Tokyo Big Sight, Tokyo, JAPAN
Official Website: www.nepcon.jp/en/
Asia's Largest Scale Exhibition for Electronics Manufacturing and SMT
The latest Manufacturing and SMT technologies which enables greater functionality and higher performance of electronics products will gather under one roof! INTERNEPCON JAPAN has established itself as Asia's LARGEST electronics trade show for business meetings and technical consultations, attracting unrivalled number of visitors from electronics set manufacturers, semiconductor manufacturers, automotive/device manufacturers from Japan and abroad.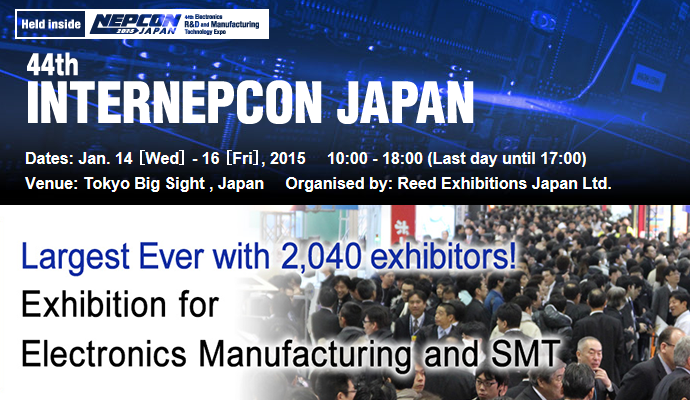 EMS/Contract Manufacturing Zone
Gathering Various EMS/Contract Manufacturing Services
EMS (Electronics Manufacturing/Production Services)
Turnkey Factory/Solutions
Various Outsourcing Services, etc.
Employment/Temp Services (Engineers)
Consulting Services
Soldering Zone
Soldering Machines
Reflow Machines
Rework Machines
Soldering Irons
Soldering Baths
Fluxers
Soldering Materials / Flux
Clean/ESD Protection Zone
Gathers All Kinds of Clean Room and ESD Protection Products Essential to Electronics Manufacturing Facilities and Laboratories.
Clean room system
Clean booths
Air showers
Particle counters
Ionizers
ESD/antistatic products
Clean room supplies (clean suits / garments / gloves / masks)
Wiper/wiping cloths
Cleaners
Other related products
Factory/Facility Equipment Zone
Factory Environmental Measures / Recycle-related Products
Factory/Facility Equipment
Environment-friendly Products / Recycling-related Products
Storage Containers (Racks, Cabinets, others)
Various Tools
Concurrent Event:
INTERNEPCON JAPAN Technical Conference