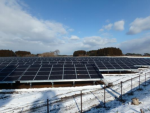 Etrion completes Japanese 9.5MW PV project on time and within budget
Date: Jul 21, 2017
Source: PVTech By Amanda Lennon
Sweden-based independent solar producer Etrion Cooperation has finished a 9.5MW utility-scale PV project in Japan, connecting the last two remaining sites totalling 4.2MW to the grid.
The project was finished before time and within its budget, having connected the first half in February this year. Marco A. Northland, CEO, congratulated Aomori stakeholders on a brilliant performance and expressed excitement and market potential for the company.


Photo: TAMAGAWA HOLDINGS CO LTD
The Aomori solar project was built in collaboration with Japanese company Hitachi High-Technologies.
The development has four sites each with a tariff of ¥36/kWh (US$0.35) under a 20-year power purchase agreement (PPA) with electric utility company Tohoku Electric Power. Etrion says the project is expected to produce 10.7GWh of solar electricity.
Marco A. northland added, that the company now has 43MW in full operation, 13MW under construction and over 250MW at various stages of development.