Listed:

07/11/2013 9:50 pm

Expires:

This ad has expired J-POP SUMMIT FESTIVAL July 27 & 28, 2013 San Francisco
2012 festival had 65,000 in attendance in two days!
Venue: Japan Town & Union Square
Website: www.j-pop.com
Date: July 27 & 28, 2013
Time: 11:00 – 19:00

J-POP SUMMIT FESTIVAL
J-POP SUMMIT FESTIVAL is a pop culture-themed street fair that covers the grounds of Post Street from Webster to Laguna and the Peace Plaza of Japantown, San Francisco. The festival is hosted by J-POP SUMMIT FESTIVAL COMMITTEE in cooperation with the Japantown Merchants Association. In 2012, the festival had 65,000 in attendance in two days!
Guests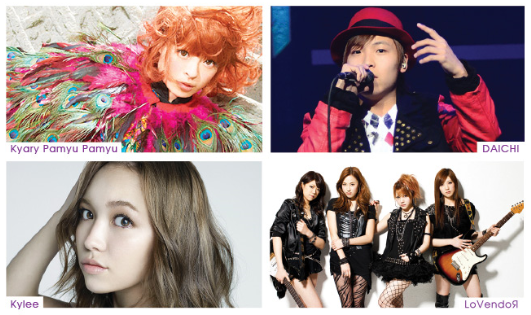 Kyary Pamyu Pamyu
Kyary Pamyu Pamyu personifies the style and sound of Tokyo's fashion Mecca – Harajuku.
Born in Tokyo 1993, she began as a model for several Harajuku fashion magazines when she was still in high school and her unique looks and bizarre language and behavior caught Japan's, and soon the world's attention.
DJ COCO
DJ COCO will join J-POP SUMMIT Festival as the main stage DJ for the whole 2 days!
Born and raised in Yokohama, Japan, but having spent the better part of a decade living in California, DJ Coco is quite the colorful international character, which is reflected in both her musical selection and her creative vocabulary.
LoVendoЯ
Don't miss the very first US concert of brand new 4-piece girls rock band 'LoVendoЯ' led by Reina Tanaka, a former star of "Morning Musume。," and three more members who were chosen from among 4,000 candidates at the nationwide audition!
Sweety
A 3-girl unit of voice-over actors, SWEETY (Yui Hasegawa, Sayaka Takenouchi,Yurika Takagi) will appear on Pagoda Stage in Japantown on 7/27 (Sat) at 5:00pm and at the "TOYOTA x STUDIO4℃ meets ANA" Tent for both days during festival!
Kylee
Kylee is an upbeat 19 year-old pop singer/songwriter currently signed to Sony Music Japan and has become a fast-rising multi-cultural star that is developing a major following in both the U.S. and Japan.
Daichi
The 22-year-old Japanese human beat-box, DAICHI, began teaching himself his amazing skill at the young age of 10. Without using any instruments or machines, DAICHI can make more than 50 different sounds using his voice, and can play rhythm beat and sing a melody at the same time.
Harajuku Kawaii!! Models
Harajuku Kawaii!! will debut in SF! Harajuku Kawaii!! in SF combines fashion show and live music performed by Ayumi Seto, Yura, Saki Sato and more!
THE AKABANE VULGARS ON STRONG BYPASS
In 2005, bassist Miki Uchizono began seeking members for her band. The search for a great power drummer began and ended with her high school classmate, Kei Sofue. The only missing piece was a singer-guitarist that could match the explosive rhythm section.
Slime Girls
The soundtrack to every time you've dreamed about the far reaches of space, the waves washing over a neon beach or giant mechs battling for your planet. Guitar and drums with an electronic wash of melodic chip music from repurposed hardware.
CAL Raijin Taiko
In the Spring of 2005, a small but committed group of students pooled their resources and formed UC Berkeley's first Taiko group. The founding members practiced in a fraternity basement, and gradually shifted to the campus' Sproul Plaza, playing on tires and chairs in lieu of drums.
Special Guest: Kyohei Sakaguchi
Kyohei Sakaguchi, Japanese architect & artist, will join our festival for the US premiere screening of How to Build a Mobile House (July 27 Sat 1:30pm at NEW PEOPLE Cinema) with a Q&A session before the film.
Special Guest: Miwa Nishikawa
Director of Dreams for Sale, Miwa Nishikawa is coming to Japan Film Festival of San Francisco! She will attend the SF premiere screening of her latest film, Dreams for Sale, on July 27th (Sat) at 7:00pm at NEW PEOPLE Cinema and Q&A session after the show.
Special Guest: Katsuya Terada
One of Japan's most sought-after illustrators known for the character design of animated film Blood: The Last Vampire, is coming to J-POP SUMMIT Festival – July 27th (Sat) and 28th (Sun)! To celebrate his latest book, "Katsuya Terada 10 Ten: 10 Year Retrospective (published by PIE International)," the artist will hold an autograph session and demonstrate his freehand drawing on a blank wall!
Special Guest: Director Sato
Award winning director, Shinsuke Sato will appear for the very special U.S. premiere of his latest film, Library Wars, on Friday, August 2nd at 7:00pm, and Saturday, August 3rd at 1:10pm. The film is a new live-action sci-fi adventure adapted from the bestselling novel and anime series originally written by Hiro Arikawa.
Schedule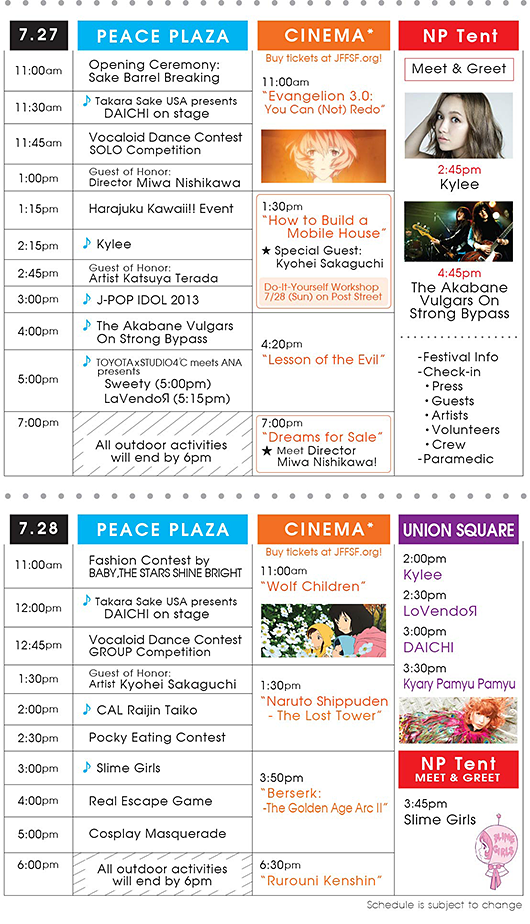 Map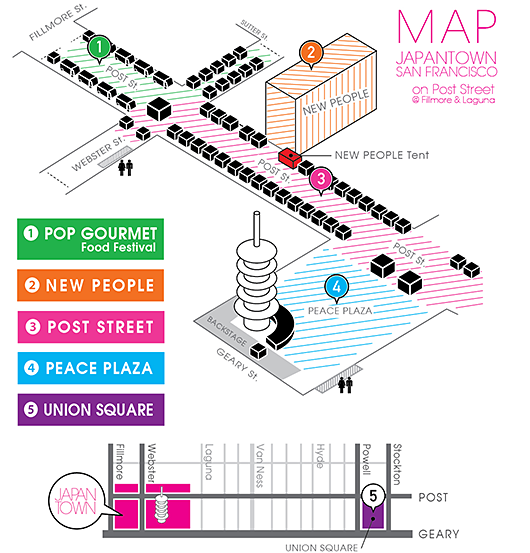 Contact
For general inquiries: info@j-pop.com
Website: www.j-pop.com
Ad Reference ID: N/A