Listed:

04/26/2014 6:00 am

Expires:

This ad has expired
Tomioka Silk Mill endorsed for UNESCO World Cultural Heritage listing
Date: April 26, 2014
Source: Nikkei Asian Review
TOKYO (Kyodo) — A UNESCO advisory panel has recommended giving World Heritage status to the Tomioka Silk Mill, a historic factory building symbolizing Japan's industrialization from the 19th Century, the Agency for Cultural Affairs announced Saturday.

The endorsement for inscription of the mill and related sites in Gunma Prefecture will likely be formalized at a meeting of the World Heritage Committee scheduled for June 15-25 in Qatar. The committee normally honors listing recommendations.
Japan's culture minister Hakubun Shimomura welcomed the news. "It gives us great pleasure that they have been evaluated as worthy of World Cultural Heritage. We would like to do our utmost so that they will be listed as recommended."
If officially acknowledged, it will be the 18th World Heritage property in Japan including natural heritage sites and 14th if limited to cultural properties.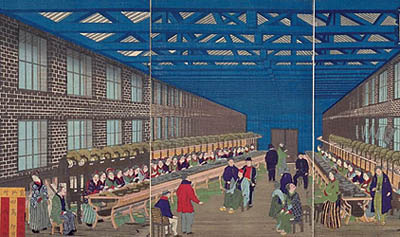 As the list of World Cultural Heritage sites expands, screening is considered to be getting increasingly strict. A total of 981 properties were listed including 759 cultural sites as of June last year.
The UNESCO advisory body took note of the role played by the site in the late 19th Century in the innovation of the sericulture and silk industry, a factor that helped catapult Japan into a modern industrial economy.
The Cultural Affairs Agency said the UNESCO body has largely acknowledged Japan's assertion that the properties of the site have "universal values" in that it helped modernize the silk industry worldwide and popularize silk.
The Japanese government placed the Tomioka site on a tentative list for UNESCO heritage inscription in 2007 and made its formal endorsement in January last year.
The International Council on Monuments and Sites, or Icomos, which advises UNESCO, has since been undertaking research including on-site visits of the mill and silk industry properties.
The Tomioka Silk Mill was built in 1872 as a government-run factory that served as a model for other mills in Japan, which eventually came to play a leading role in the global silk industry.
---
Ad Reference ID: N/A