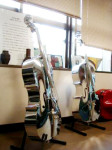 Amazing Magnesium Violin and Aluminum Cello! They are made with the same technique employed to make nose sections for Shinkansen bullet trains
Source: Web Japan
Yamashita Kogyosho is responsible for manufacturing the nose sections of Japan's Shinkansen bullet trains (the "faces" of the trains). These streamlined noses are produced by craftsmen hammering aluminum sheets using a technique called "Uchidashi Bankin." With this time-honored technique they create delicately curved surfaces by hammering carefully selected areas of the sheets very precisely by hand, carefully controlling the strength of each blow. Since replacing this highly sophisticated production process by machine would require immense amounts of time, effort and money, the company entrusts it to craftsmen.
When making violins the craftsmen reproduce the gentle bulges and intricate curved surfaces of the instruments' bodies by hammering magnesium alloy sheets. It takes approximately three months for them to complete one violin.
Masterful skills combine with musical passion to create new sounds
Yamashita Kogyosho originally created violins and cellos using aluminum, the material it employs in Shinkansen construction, in order to publicize its sheet-metal hammer-processing technique. The first aluminum instruments weighed approximately twice as much as wooden violins, and thus were difficult to play. The company then turned to a magnesium alloy that is much lighter than aluminum, and reduced the thickness of the metal sheet to 1 mm. The result was a violin weighing 539 grams — almost the same as its wooden counterparts. A magnesium violin produces a vibrant, highly appealing sound which is different from that produced by a wooden violin, setting it apart as a new musical instrument.
Magnesium violins were exhibited in Tokyo in November 2009, attracting considerable media attention. Ever since then requests from schools and municipal governments for exhibitions and performances at various ceremonies have been pouring in one after another. Yamashita Kogyosho plans to continue its work on the development of magnesium violas and cellos in pursuit of further weight reduction and other improvements. The day may well be approaching when we will be hearing string quartets performing with all-metal instruments!
About Yamashita Kogyosho Co., Ltd.