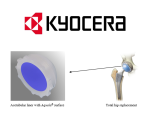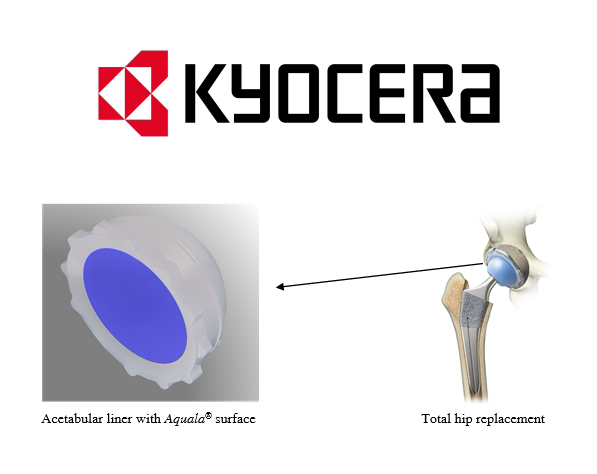 KYOCERA Honored by Japan's METI for Aquala® Artificial Hip Joint Technology
Date: Jun 25, 2018
Source: Kyocera Corporation
KYOTO, Japan – Kyocera Corporation (NYSE:KYO)(TOKYO:6971) today announced that its innovative Aquala technology received Japan's "Prize of the Minister of Economy, Trade and Industry" during the 2018 National Invention Awards held in Tokyo June 12 by the Japan Institute of Invention and Innovation (JIII).
The honor recognizes Kyocera's Aquala surface-processing technology (Japan Patent No. 4963838), which has been demonstrated to extend the life expectancy of artificial hip joints, and was developed in collaboration with The University of Tokyo. The JIII award program was created in 1919 to recognize original inventions showing excellent future promise.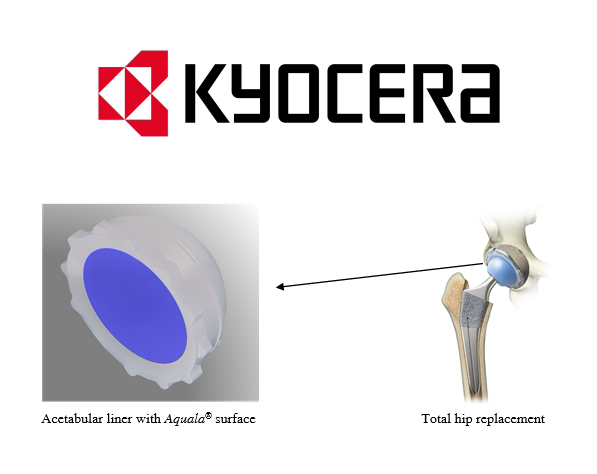 Aquala(R) Technology

Artificial hip joints have become a common treatment for hip-joint diseases such as osteoarthritis and certain hip fractures. The artificial joint replaces a portion of the patient's femur known as the femoral head and its mating surface on the patient's pelvis, known as the acetabulum. Kyocera developed its Aquala technology to create an exceptionally low-friction bearing surface on the acetabular side of the joint, which couples with diamond-polished ceramic on the femoral side. Kyocera's Aquala technology represents the first Japan-market use*1 of the biocompatible material PMPC*2 to create a nanometer-scale hydrophilic polymer layer with functions similar to human articular cartilage in the implant's acetabular liner.
Aquala technology is designed to reduce the incidence of wear particles produced at the bearing surface of the artificial joint — which can otherwise lead to peripheral inflammation, loosening of the joint and eventual joint failure. Surgeons have implanted approximately 45,000 total hip replacements using Kyocera's Aquala technology since it was approved by Japan's Ministry of Health, Labor and Welfare in 2011.
Development Background
Joint dysfunction from disease or injury can cause debilitating pain and lost mobility. Current methods of Total Hip Arthroplasty (THA) have been in practice more than 50 years, with approximately 130,000 such surgeries last year in Japan alone and about 1.8 million worldwide – figures expected to grow as populations age. One of the main limitations of this procedure is the service life of the artificial hip joint, which is generally recognized as about 20 years. Today's lifestyle and activity factors are resulting in younger THA candidates with longer life expectancies — and a second THA on the same joint tends to be more challenging.
In 2001, Kyocera began collaborating with The University of Tokyo to develop artificial hip joints that would experience less wear over a longer lifetime. Their goal was to reduce or eliminate the cycle of wear, peripheral inflammation, loosening of the implant and premature failure caused by microscopic "wear debris" that accumulates over the years around implants made of conventional materials. The development team utilized biomimetic research*3 to create a hydrophilic nano-surface treatment*4 on a biocompatible polymer as the bearing surface of the hip joint. By successfully modeling the surface structure of human articular cartilage, they developed a wear-resisting technology that reduces these wear particles by 99 percent.
Physical loads produced by walking can exert several times a person's body weight on the hip joints. By reducing wear debris 99 percent, Kyocera's Aquala technology is expected to contribute to a longer service life for the hip implant as compared to conventional implants. This expectation is supported by Kyocera's own walking load simulation tests, which replicate 15 years of patient use. Subsequent research has shown extremely low wear even after long-term testing equivalent to 70 years in vivo*5.
Aquala® Technology Prior Awards
2011
Engineering Award presented by Japanese Society for Artificial Organs
2011
25th Cutting-Edge Engineering Award for pioneering originality presented by the Minister of Economy, Trade and Industry
2012
Engineering Award presented by Japanese Society for Biomaterials
2012
Prize for Industrial Development presented by Japan Fine Ceramics Association
*1: First use: Based on Kyocera's research of this type of joint using biocompatible polymer (as of June 12, 2018)
*2: PMPC: Poly(2-methacryloyloxyethyl phosphorylcholine [MPC]), an implantable biocompatible polymer
*3: Biomimetic: The science of solving complex human challenges using models from nature
*4: Nano-surface treatment: Surface processing at approximately 100 nanometer scale (one 10,000th of a millimeter).
*5: Reference Source: [Moro T, Takatori Y, Kyomoto M, Ishihara K, Hashimoto M, Ito H, Tanaka T, Oshima H, Tanaka S, Kawaguchi H: Long-term hip simulator testing of the artificial hip joint bearing surface grafted with biocompatible phospholipid polymer. J Orthop Res32(3): 369-376, 2014]
* Aquala is trademark of Kyocera Corporation