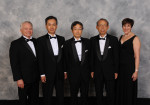 Receipt of 2014 Heroes of Chemistry Award from the American Chemical Society
Date: Aug 13, 2014
Source: Asahi Kasei Chemicals Corp.
Asahi Kasei Chemicals received the 2014 Heroes of Chemistry Award from the American Chemical Society (ACS) for the technical development and commercialization of the world's first non-phosgene process for polycarbonate (PC), marking the first time a Japanese company has received this prestigious award. The award ceremony was held on August 10 (US Pacific Time) as part of the 248th ACS National Meeting & Exposition in San Francisco.
Since 1996, the ACS Heroes of Chemistry program has recognized chemical scientists whose work in various fields of chemistry and chemical engineering has led to the successful innovation and development of commercial products based on chemistry. While this honor has been bestowed on researchers and engineers who contributed to the development and commercialization of innovative technology at American and European companies over the years, this year is the first time that award recipients are from a Japanese company.


Flowchart of the Asahi Kasei polycarbonate process
The award recognizes the successful development by Asahi Kasei Chemicals of the world's first technology to manufacture PC using carbon dioxide (CO2) as feedstock. The process uses the three feedstocks of ethylene oxide (EO), by-product CO2 from EO production, and bisphenol-A, to obtain the two products of high-performance PC and high-purity ethylene glycol in high yield. The technology is recognized for its all-around environmental performance by enabling the utilization of CO2 as feedstock as well as being a resource-saving and energy-saving process.
In contrast, the conventional PC process relies on the highly toxic gas phosgene as feedstock, with its attendant severe risk to people and the environment in the event of leakage. The phosgene process furthermore requires the use of hazardous methylene chloride as solvent, as well as the treatment and disposal of large quantities of wastewater. The revolutionary process developed by Asahi Kasei Chemicals enables PC to be produced without using phosgene or methylene chloride, and releases no wastewater. Currently, five licensees around the world have constructed large-scale plants using the non-phosgene process based on CO2, supplying markets with high-quality, high-performance PC.
Asahi Kasei Chemicals will continue to leverage its strengths in catalyst technology and process technology to create innovative processes and products featuring environmental performance, high yield, and low cost.
Award recipients
Masahiro Tojo, Kazumi Hasegawa, Muneaki Aminaka, Shigenori Konno, Kazuharu Yasuda, and Takashi Adachi of Asahi Kasei Chemicals Corp.; Manabu Oishi of Asahi Kasei Engineering Corp.; Isaburo Fukawa of Asahi Research Center Co., Ltd.; Shinsuke Fukuoka and Haruyuki Yoneda formerly of Asahi Kasei Corp.; Kazuhiko Matsuzaki formerly of Asahi Kasei Chemicals Corp.; and Mamoru Kawamura and Akio Yamaguchi formerly of Asahi Kasei Engineering Corp.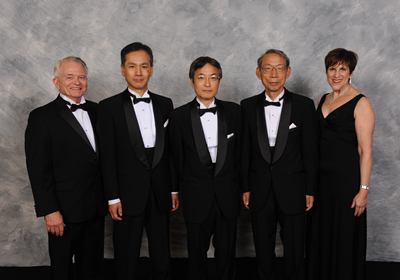 (from left) Thomas J. Barton, ACS President; Hiroshi Shirai, Executive Officer, Deputy CTO, General Manager, Asahi Kasei Chemicals; Masahiro Tojo, Senior Researcher, Chemistry & Chemical Process Laboratory, Asahi Kasei Chemicals; Isaburo Fukawa, Senior Researcher, Asahi Research Center; Madeleine Jacobs, ACS Executive Director & CEO