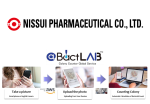 Nissui Pharmaceutical Launches Global Colony Counter Service
Date: Aug. 30, 2018
Source: Nissui Pharmaceutical Co., Ltd.
Nissui Pharmaceutical Co., Ltd. is carrying out the trial operation to count colonies cultured in the "simple culture medium for bacteria counting CompactDry ™" by using the Amazon Web Service (AWS) cloud service and artificial intelligence (AI) technology for specific overseas customers from August 2018 as part of active investment in the new developing area. "CompactDry ™" is a major product of inspection reagents used for food quality inspection and sanitary control of manufacturing facilities.

About CompactDry ™
CompactDry ™ is a dry and simple culture medium culturing with only 1mL of sample solution without requiring the preparation of culture medium. Given the circumstances, the company has established the global service of colony counter "@BactLAB™" by improving the added value of products, with the aim to reduce the workload of food hygiene management, improve and network the QC and QA for suppliers, manufacturing sites and the company's headquarters. This service can make it possible for you to achieve the centralized QC/QA management.
Global service of colony counter (@BactLAB™):
You can use an APP to easily count the number of bacteria (colonies) cultured in CompactDry&trade by using smartphones.
After registering as a member on the APP or service web, users can photograph colonies cultured in CompactDry&trade via a smartphone or PC, upload the photo, and then confirm colony counting several seconds later.
This service is only provided for overseas customers.
The counting result may have a deviation of around 8%, subject to the image resolution.
Even if the colony count is "0", the result does not indicate "negative".
Official website: @BactLAB™
Application (Google Play/Apple Store/Online Service):
APPs on Android, iOS or PC are currently accessible by some specific customers.
Google, Google Play, Android and other symbols are trademarks of Google Inc.
Apple and trademarks of Apple are trademarks of Apple Inc. registered in the USA and other countries.
Amazon and Amazon Web Service are trademarks or registered trademarks of Amazon.com, Inc. or other affiliated companies.